Margot Boyer-Dry '11 Delivers Senior Class Welcome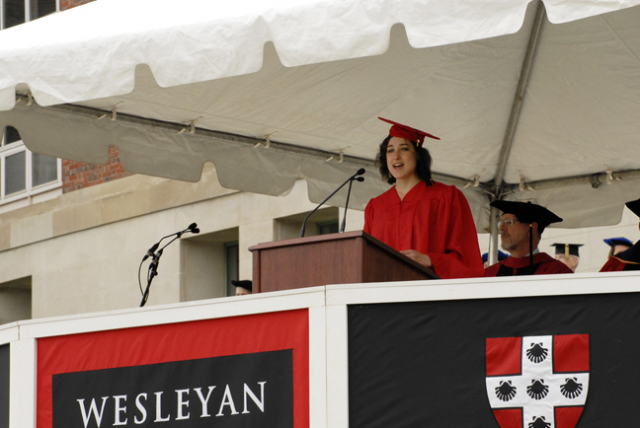 By Margot Boyer-Dry
Early in our time at Wesleyan, we witnessed a student-led campaign to 'Keep Wesleyan Weird'. At that time, the movement's language struck me: What does it mean to 'keep Wesleyan weird'? Surely, there is no shortage of unusual happenings here. You'd be hard-pressed to find another place where people are so excited about raw milk coops, acro-yoga, and entrepreneurial peer haircutting. Still, I don't think the campaign's philosophy was so simple. As I have experienced Wesleyan's bounty of oddities, I have carried with me the words of that early campaign, 'Keep Wesleyan Weird'; and now, years later, I think I finally understand their meaning.
What those students referred to as Wesleyan's 'weirdness' is what distinguishes this place from the many others that are holding their own commencement ceremonies this weekend. The concept of this 'weirdness' translates, for me, to a deep commitment to individual authenticity. Wesleyan has instilled in us the bravery to actively cultivate a lifestyle based on the things that we value.
Annie Dillard is a stunning writer and Wesleyan Professor Emeritus. She writes in her book, Teaching a Stone to Talk, about the purity of existence that results from living instinctually. She states, simply, "We can live any way we want…" and continues, "I think it would be well, and proper, and obedient, and pure, to grasp your one necessity and not let it go." Indeed, in honoring our curiosity, we demonstrate a purity of being; an obedience to our humanity. Dillard's statement reflects the Wesleyan understanding that we are our most effective selves when we are sharing our joys with the world.
So, then, is this idea weird? I don't think so. We know that a Wesleyan education is not something to be mastered, or a step on a set path; rather, it is to be experienced and savored. What looks now like a weird pastime – be it Taiko drumming, voguing, or contemplating infinity… for the fun of it – may be, for any student, the discovery of a calling upon which  she builds a stable life of personal and collective enrichment.
To make an example of one of my friends, Alex Bernson centers his life on the study, critique, and production of coffee. This may strike some as odd, or simply trivial. But the Wesleyan ethos illuminates the value in Alex' pursuits; not only can he pour lattes with the best of 'em, but through his studies in queer urban sociology—GO WES—he has come to understand the café as a foundation of a neighborhood's life, and therefore as a site of potential social change. He will use his awareness of the café's social power to shape the communities in which he works for the better. Here, he has begun to put this goal into practice by establishing Wesleyan's favorite speech-impedimented café, "EspWESso." Alex is just one example of the value that Wesleyan places on pursuing the things that excite each of us individually. I would love to mention all of the members of our class who are each engaging in similarly valuable work, but if I did we'd be here at least until next year's commencement ceremony, and Connecticut's weather simply isn't good enough for that.  So instead, the reading of our names later will serve to recognize each of us and our individual work in developing our interests and ourselves during our time here.
So in the end it turns out that, what some have taken for Wesleyan students' weirdness is actually our capacity to follow our bliss… And our aptitudes, and our principles. The space that Wesleyan makes for us to develop that capacity is, in part, what makes this environment singular. Throughout these past years, I have reflected on how lucky I am—how lucky we all are— to be able watch those around us do what they feel they need to do. It is a gift to watch all of you dance, speak, write, play, and simply be; it has been a gift for us all to be together. As we prepare to set out into the world, or, as the case may be, into Brooklyn, I think it is essential that we keep this quality of ours in mind. Our active pursuit of our own weirdness at Wesleyan not only signifies the formative nature of this place and this time, but lays the groundwork for us to continue living in this deeply human way for the rest of our lives.
As we are all acutely aware, commencement day marks the moment of departure from the community that we have created together. But what better way is there to open ourselves to the world than with the curiosity, bravery, and honesty that we have cultivated here, with each other? Going forth from this place, we will continue this way of being in new communities, planting seeds of our wonderful Wesleyan weirdness wherever we go.