Gift Establishes the Patricelli Center for Social Entrepreneurship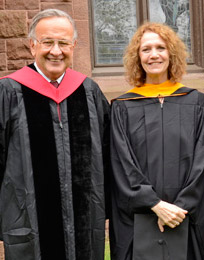 Wesleyan University is establishing the Patricelli Center for Social Entrepreneurship, which will support students who want to create programs and organizations serving the public good – anywhere in the world.
The Patricelli Center and its programs are supported by a generous $2 million leadership gift from the Robert and Margaret Patricelli Family Foundation. Robert E. Patricelli '61 is chairman and chief executive officer of Evolution Benefits and of Women's Health USA and an emeritus trustee of Wesleyan. Margaret Patricelli is president and CEO of the Robert and Margaret Patricelli Family Foundation.
The Center will provide workshops, speakers, and networking opportunities to help students become successful social entrepreneurs, and will award small grants to undergraduates engaged in specific projects. It is intended to serve as an incubator of ideas and initiatives.
"For generations Wesleyan students have been venturing into the world as social entrepreneurs, applying what they learned on campus to help others," says President Michael S. Roth. "The Patricelli Center will build on this tradition and will prepare students to make an even greater difference in the world. I'm so grateful to Bob and Margaret for their vision and generosity."
The Patricelli Center will draw on Wesleyan's extensive community of alumni and parents who have experience in developing innovative social ventures. Wesleyan's tradition of service includes 225 graduates who have served in the Peace Corps since 1961. Students have also created entrepreneurial ventures, such as Shining Hope for Communities, founded by Wesleyan students to ameliorate conditions in the Kibera slum outside Nairobi.
The Patricellis are donors to Shining Hope for Communities, as well as members of its board, and they credit this experience with boosting their confidence in the power of social entrepreneurship.  Robert Patricelli also serves on the board of Newman's Own Foundation, which he described as a wellspring of interesting ideas regarding social entrepreneurship.
"As a business entrepreneur, I've wanted to apply the same instincts for social causes and nonprofits," he says. "Social entrepreneurism fits so naturally with Wesleyan. It's in our DNA."
At Commencement on May 22, the Patricellis received Wesleyan's Raymond E. Baldwin Medal, the highest award of the university's alumni association, given in recognition of service to Wesleyan and careers that have contributed significantly to the public good.