Psychology Department Hosts Undergraduate Research Conference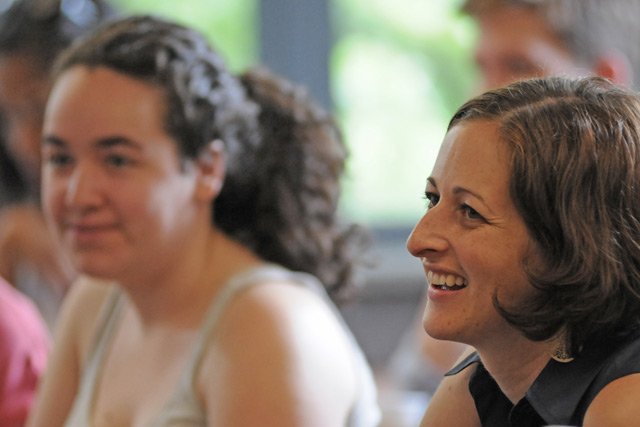 Recently, researchers from Wesleyan hosted a conference presenting findings to peers and colleagues from Wellesley College and Barnard College. Not an unusual event, but what was remarkable was that the researchers were primarily students.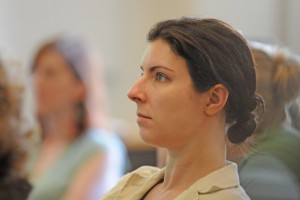 The event featured Wesleyan students who do active research in Wesleyan's Cognitive Development Lab, which is co-directed by Hilary Barth, assistant professor of psychology, assistant professor of neuroscience and behavior, and Anna Shusterman, assistant professor of psychology. The lab's research projects explore how young children perceive, learn about and think about the world.
The conference was created so the students could actively collaborate with others who are doing similar scientific research.
"Ultimately science is a very human process, and doing research with human populations, as we do in psychology, is much more satisfying if it's rooted in respect and friendship and excitement about learning from each other and sharing ideas," says Shusterman, whose lab organized the conference.
Barth agrees, pointing out that introducing students to these types of gatherings has a variety of benefits.
"It's important for students to see what is going on in other cognitive development labs," Barth says. "Although we try to give them a sense of the big picture, I think it's even more effective for them to hear firsthand about the variety of work being done."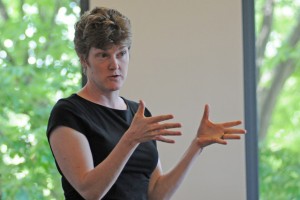 The event took place on campus June 29 and began with presentations to a gathering of all the students by faculty members from the three institutions. Along with Wesleyan's Cognitive Development lab, the students attending do research at Barnard College's Language Acquisition and Development Research Laboratory and its Cognitive Development Center, as well as Wellesley's Laboratory for Language and Development. The group included three Deaf students so ASL interpreters also were brought in for the day.
"Because we do research with cross-cultural and cross-linguistic populations, including signers, we place a great premium on building cultural awareness and exposing students to a wider array of people than the typical demographics of psychology researchers and study participants," Shusterman says.
The faculty and students then attended a lecture titled "What the study of sign languages can tell us about the relationship between spatial language and spatial cognition," which was sponsored by the Hughes Summer Research Program and featured Jennie Pyers, assistant professor of psychology at Wellesley College. Pyers is also a frequent collaborator with Shusterman. Afterwards, the students reconvened and made short presentations to smaller groups.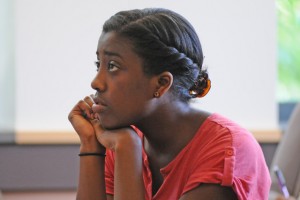 "It was a great step for future collaboration between labs," says Isaiah Sypher '13, who is doing research that tests children's ability to apply a newly learned number-word in different contexts. "It exposed us to different projects being undertaken in the field of cognitive development. For me, the biggest takeaway was learning how to talk about the research that we're currently working on in a very succinct manner, and also how to ask critical questions."
It also put some of the work they are doing into a larger perspective.
"It was really valuable to get a better sense of how our projects fit into cognitive development research as a whole, and to learn how our studies relate to other research being conducted," says Rebecca Lange '13, who is investigating number development in Deaf and hard of hearing children versus the same development in hearing children. "It was great to get the opportunity to talk about and explain our research to people who were unfamiliar with it. Hearing the professors talk about research was a great model for how to do that well."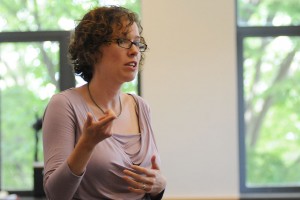 Barth believes that such conferences expose students to an important, and often over-looked research reality.
"Psychological science, or any science, is a highly social and collaborative enterprise, with a lot of important ideas being generated through interaction at conferences and informal meetings," she says. "It's good for the students to see that, and get a little bit of the conference experience even at the undergraduate level."
Along with Sypher and Lange, other Wesleyan students doing research in the Cognitive Development Lab this summer include: Taylor Deloach '13, Emilie George '13, Alexander Hoyle '13, Laura Machlin '13 and Rachel Santiago '12.  Lab coordinators Talia Berkowitz and Elizabeth Chase also participated.