Sweet, Velazquez, Holman Lead Small Army in Prepping Student Housing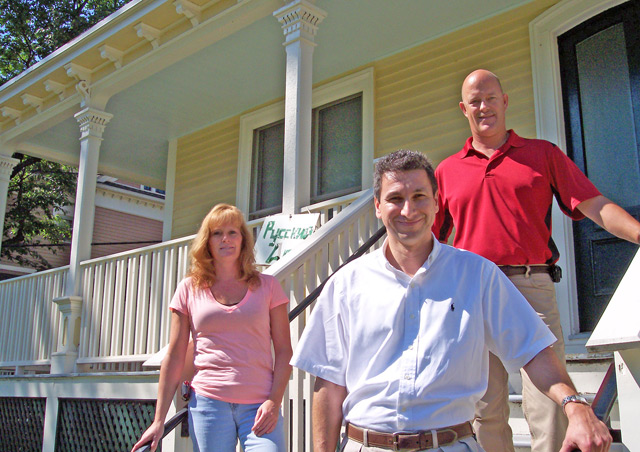 Facilities managers Jeff Sweet, Mario Velazquez and Deborah Holman began the summer of 2011 staring down the number 2,863.
That's the total number of beds in Wesleyan's undergraduate housing pool – somewhat greater than the number of bedrooms in the university's 225 residences.
In an annual rite known as the summer maintenance program, Sweet, Velazquez and Holman oversee the inspection, basic repair and cleaning of each and every room in Wesleyan's varied housing stock, from the aptly named High Rise to the stately Eclectic Society to the multitudinous wood-frame houses.
The project amounts to a carefully choreographed dash toward the end of August – the fast approaching moment when new students arrive en mass. (Most returning students arrive in September.)
"There's a method to our madness," says Sweet, who joined the physical plant as a purchasing agent in 1986 and has been a facilities manager since the early 1990s.
All told, the facilities managers and their crews have about 60 days for testing thousands of lights, locks, latches, knobs, windows and appliances – and repairing them asnecessary. Painters and cleaning crews follow closely behind.
All these tasks must becarefully scheduled around temporary summer occupancies – by alumni and other visitors for Reunion and Commencement, as well as summer academic and athletic program participants – and around major renovations. (The latter work is carried out by the physical plant's Construction Services unit.)
Along the way, a small army of tradespeople and laborers, about 120 strong, answers calls for help with emergencies, such as this summer's flooding of the Center for the Arts due to heavy rains.
"They're moving around doing a lot of different things," Sweet said of the team, a dedicated and skilled crew of carpenters, painters, locksmiths, general craftsmen, electricians, plumbers and movers, mostly full-time physical plant personnel. "We're getting work orders all the time."
Top-to-bottom maintenance of Wesleyan's residential buildings occurs during summer, because that's the only season when they're mostly empty. Planning starts during the winter.
The hard labor begins in late spring, just before Reunion and Commencement, after most underclassmen have left campus. In a burst of activity over three-and-a-half days, the maintenance team prepares 500 beds in university residences for guests. Within days theteam is in full swing campus-wide.
Come August, platoons of custodians working double shifts and deep into the night. By the end of the summer maintenance program – scheduled for August 26 – the team will have scoured every bedroom for defects large and small, fixing jammed locks and sticky windows, cleaning carpets and adding fresh paint.
In all, the project consumes about 600 gallons of floor finish, as well as about 1,000 gallons of off-white paint known as "Wesleyan white."
Also in August the team turns to classroom buildings, athletic facilities libraries and a host of other non-residential university buildings.
Workers have occasionally found bizarre surprises in some residences as they go about their work – a five-foot headless mechanical Santa Claus found in a Pearl Street attic years ago is legendary – but this rarely happens any longer, according to Sweet. He attributes this to steady communication to students from Residential Life about rules and expectations. Not to mention fines issued for infractions discovered during the academic year.
"Waste Not," a student organization that collects unwanted possessions in the spring and sells them in the fall, further helps to minimize unwelcome detritus, he said.
Alas, Sweet joked, referring to a campus artifact that has repeatedly vanished and rematerialized since 1957: "We didn't find the cannon this year."