13 Seniors Elected to Phi Beta Kappa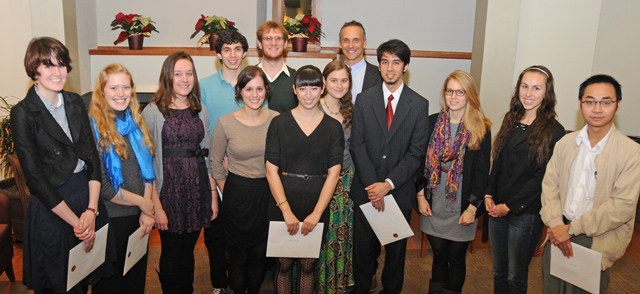 Thirteen seniors joined the U.S.'s ninth oldest Phi Beta Kappa chapter during an induction ceremony Dec. 7.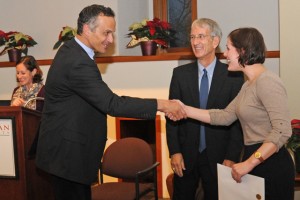 Election to the society is based on fulfillment of eligibility requirements. For students elected in the fall, admittance is based on a student's performance at Wesleyan only through their junior year. A student first must have been nominated by his or her major department. He or she also must have demonstrated curricular breadth by having met the General Education Expectations, and have achieved a grade point average of 93.00 or above.
Phi Beta Kappa was founded in 1776, during the American Revolution. The organization's Greek initials signify the motto, "Love of learning is the guide of life."
The students and their majors are: Brittany Laine Baldwin-Hunter, biology; Alicia Doo Castagno, American studies; Ali Khalid Chaudhry, economics/mathematics and computer science; Lee Solomon Gottesdiener, chemistry/neuroscience and behavior; Zin Lin, mathematics and computer science/physics; Cassidy Siegel Mellin, neuroscience and behavior/psychology; and Rachel Leah Merzel, chemistry.
Also Emma Kathryn Mohney, English/romance languages and literatures; Emma Elaine Paine; English; Reed Leon Sarney, mathematics and computer science; Allegra Stout, feminist, gender and sexuality studies/psychology; Brianna Megan van Kan, College of Letters/music/Russian languages and literature; and Kathryn Emily Wagner, biology/molecular biology and biochemistry.
Chapter President Gary Yohe, the Huffington Foundation Professor of Economics and Environmental Studies, initiated the members. Sally Bachner, assistant professor of English, is the chapter's vice president and Anna Shusterman, assistant professor of psychology, is the chapter treasurer. Louise Brown, dean for academic advancement and dean for the class of 2013 is the secretary and marshal.
(Photos by Charlotte Christopher '12)