Ring in the New Year at Middnight on Main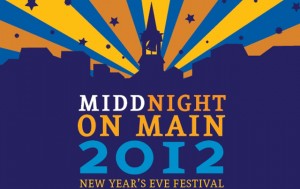 Wesleyan students, employees and their families can ring in the new year with a night of music, dancing, fireworks, crafts and entertainment close to campus.
Starting at 3 p.m. Dec. 31, the City of Middletown will host Middnight on Main 2012, an alcohol-free celebration with unique activities for revelers of all ages, centered in the city's historic downtown. Events conclude at midnight with a participatory event.
Since Wesleyan is a sponsor of the activity-rich festival, employees are eligible for discounted admission buttons: $6 for kids (usually $10) and $12 for adults (usually $16-$20). To get the discount, use code "Wesleyan 2012" when purchasing your buttons online, or order directly from this link.
"Middnight on Main is a wonderful opportunity for the Wesleyan community to engage with the Middletown community and participate in festive and fun events," says Frank Kuan, co-chair of the volunteering committee for Middnight 2012. "Bring the family and enjoy everything the festival has to offer."
Middnight is an eclectic mix of performance and action – entertainment includes a comedy show, sword swallowing, speed chess games, a brass band, salsa and contra dance lessons, Irish step dancing, organ fusion music, hula-hooping, roller-skating, yoga, jazz piano by Wesleyan's Jazz Ensemble coach Noah Baerman, a performance by Wesleyan alumnus Steve Roslonek '93 from SteveSongs (see video below) and more!
[youtube width="300″ height="195″]http://www.youtube.com/watch?v=_SKxayr1_DA[/youtube]Events will be hosted at various venues downtown. Wesleyan's Green Street Arts Center will feature cooking demos, indie/post-punk, pop punk and "wizard" rock music groups throughout the night. To view the full schedule, click here.
Middnight on Main will countdown to 2012 with an outdoor Taiko drumming extravaganza and the 12 a.m. ringing of the bells at Holy Trinity.
Individuals can also earn a free Middnight button by taking a 3-hour volunteer shift. Contact Frank Kuan for more information.
For more information on Middnight on Main click here. To view the publicity poster, click here.