Goldenring '77 produces Radio Rebel for Disney Channel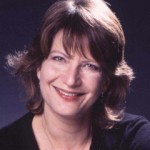 Jane Goldenring '77 produced the upcoming Disney Channel original movie, Radio Rebel.  It airs at 8 p.m. Friday, Feb. 17 (7 p.m. Central). The film stars Debbie Ryan (Jessie) and was directed by Peter Howitt (Sliding Doors).
Radio Rebel, which is based on the book, Shrinking Violet by Danielle Joseph, tells the story of Tara, a shy 17-year-old, who has another identity: DJ Radio Rebel. As her popularity as a radio DJ skyrockets, Tara finds it harder to keep her alter ego a secret and learns to take her own advice and embrace who she is.
"The movie is a lot of fun and the young cast is terrific," says Goldenring, who is president of Goldenring Productions. "There are three new songs that were composed for the movie that the band in it plays and Debby does a cover of 'She's Got The Beat' that's great. But I'm particularly proud of the message of the movie: that it's okay to be different and have a distinctive voice—and how important it is to speak up and stand up for yourself and others."