Gifts in Honor of Faculty Support Renovated Building Project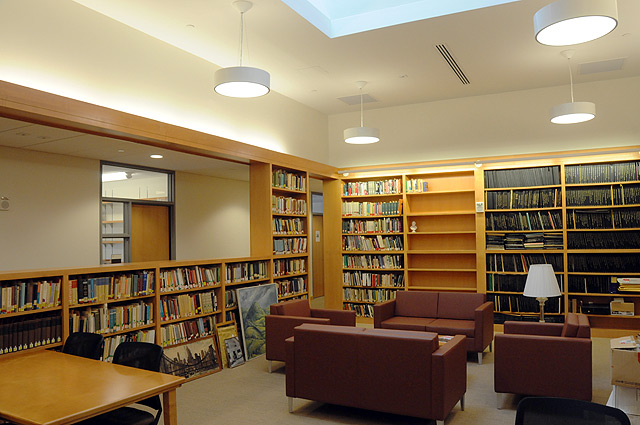 The former Squash Courts Building located at 41 Wyllys Ave. on Wesleyan's historic College Row has opened as the renovated home for Art History, the College of Letters and the Career Center.
Notably, several College of Letters and Art History alumni have provided gifts for the project to honor faculty members from their undergraduate days.
David Resnick '81, P'13, joined by his wife Cathy Klema P'13, contributed the lead gift to name the Art History Wing in honor of John Paoletti, the William R. Kenan Professor Emeritus of the Humanities and Art History.
Resnick, now chairman of global financing advisory for the investment baking firm Rothschild Inc., was a European history major at Wesleyan, who earned an M.B.A. and J.D. from the University of Chicago. It was his Introduction to Art History course with Paoletti, he says "that really opened my eyes to art from a historical and sociological perspective."
He recalls Paoletti as "passionate, enthusiastic, and knowledgeable," and took further courses with him—20th Century Art History and Early Italian Renaissance Art. Later, he served as Paoletti's teaching assistant for Introduction to Art History.
"The exposure to art and the ways to think about art that I learned from John have resonated and remained with me, and made my life much richer," he says.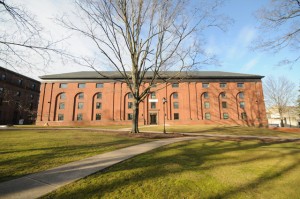 John Ravenal '81, the Sydney and France Lewis Family Curator of Modern and Contemporary Art at the Virginia Museum of Fine Arts in Richmond and past president of the Association of Art Museum Curators, also named John Paoletti as the professor who inspired his gift to Wesleyan's renovation project. "John Paoletti is a transformative teacher," he says. "He quite literally transformed my life, opening the door to my career path through his powerful lectures, enthusiasm for a broad range of art, openness to new ideas, and high expectations. I am proud to consider him one of my most important mentors."
Joe Fins '82, a COL graduate who is chief of the division of medical ethics and the E. William Davis, Jr., M.D., Professor of Medical Ethics and Attending Physician at New York Presbyterian Weill Cornell Medical Center, provided funds for an office to be named in honor of his College of Letters Professor Paul Schwaber.
Of his background in the College of Letters, Fins says that it provided the "circuitous—and much more interesting—route," to his career in medicine, all because of a freshman humanities class with Paul Schwaber. "Reading the Greek tragedies or the Bible under his careful stewardship introduced me to the Humanities and another realm of inquiry. As I pursued my pre-medical courses, I did so as a COL major, which has forever influenced my work as a physician and medical ethicist.
"I am immensely grateful to Paul and his fellow faculty members for making COL such a life-altering experience for me and for so many others. Paul epitomizes what is best about the COL professoriate: a brilliant faculty that blends superb scholarship with engaged teaching."
The College of Letters professoriate was also what inspired another graduate of the department. This anonymous donor provided the lead gift to name the library in honor of all COL faculty—those who taught in the past, those now teaching presently, and those who will join the COL faculty in the future.
Additionally, Matthew Weiner '87, the creator of the hit television series Mad Men, stepped forward to pay tribute to the professors who honed his writing skill in the COL, specifically Franklin Reeve, emeritus professor in the College of Letters.  "I met Frank Reeve when I was a freshman," Weiner recalls. "I wanted to write poetry, but I couldn't get into any of the writing classes."
When a student suggested that Weiner ask Reeve for a tutorial, he approached the professor, giving Reeve his poems to read.
"He said really horrible things to me about my poetry, and I said, 'Okay, I want to make them better'," Weiner recalls, and the two began a relationship that four years later, found Reeve advising Weiner on his honors thesis.
"Certain people find a way to encourage you and inspire you—and you know that what they are saying is the truth," says Weiner. "I was an insecure undergraduate, but Franklin Reeve made me feel that I had unique talent and something to say, and that it would require a lot of effort—and it made me want to put in that effort. He was a good friend to me, a mentor and a touchstone."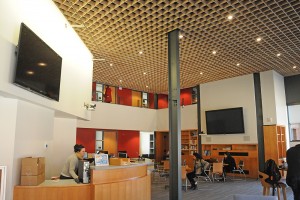 In words that other alumni echo, Resnick sums up the thought behind his gift this way: "One of the best ways alumni can support Wesleyan is to recognize the people who have made it such a special place. I felt that John Paoletti had such an influence on me and also on the university. Honoring him and his commitment to teaching and education is how I wanted to acknowledge the huge impact Wesleyan has had on me."
The opening celebration of the building, highlighting the Career Center, will take place on Friday, Feb. 24, in conjunction with the February Board of Trustees meeting, as well with Volunteer Leadership meeting. A day-long Career Forum, including panel discussions with alumni, is scheduled for Saturday. A listing of events is available here.
Information about contributions to the new Career Center will be announced later. Additionally, celebrations of the Art History Program and the College of Letters are being planned for the fall 2012.