Nerenberg Authors Translation of Baliani's Corpo di Stato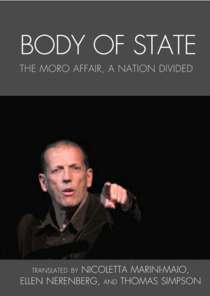 Professor Ellen Nerenberg, chairperson of the Romance Languages and Literatures Department, recently published a new book, Body of State: The Moro Affair, A Nation Divided. It offers a translation of Marco Baliani's acclaimed dramatic monologue, Corpo di Stato, concerning the 1978 kidnapping and assassination of Italian Prime Minister Aldo Moro by the terrorist Red Brigades.
Nerenberg authored the translation along with Nicoletta Marini-Maio and Thomas Simpson. She also co-wrote a critical introduction to the book, with Marini-Maio.
Corpo di Stato was commissioned by Italian state television in 1998 to commemorate the 20th anniversary of the "Moro Affair." Through over 100 performances of Baliani's monologue since its debut, the piece has evolved in response to the forceful reactions of Italian audiences. The first draft of this English translation offered the supertitles for performances of Baliani's 2009 U.S. tour, and was subsequently expanded to reflect the most recent version of the text. Body of State features a translation of the dramatic monologue; a preface by translator and Professor of Theater Ron Jenkins; a critical introduction; Baliani's thoughts about the 1998 production for Italian television; an interview with Baliani and his artistic collaborator, Maria Maglietta; and the afterword they wrote in light of the 2009 tour. It also provides reviews, contributed by scholars, students and spectators, of Baliani's 2009 North American tour.
Also contributing to the book were William Stowe, the Benjamin Waite Professor of the English Language; Nadja Aksamija, assistant professor of art history; Antonio Gonzalez, professor of romance languages and literatures; and Pamela Tatge, director of the Center for the Arts.