Social Justice Leadership Conference April 21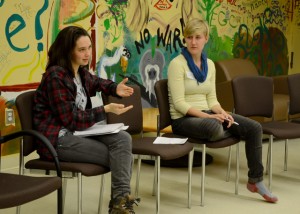 Education reform, conflict resolution and confronting racial segregation are among the topics to be discussed at the fourth annual Social Justice Leadership Conference (SJLC) on April 21.
SJLC is a collaborative effort which provides a space for students, student groups, community members, alumni, faculty, and staff to discuss social justice and to learn and refine leadership skills. SJLC seeks to empower its participants to create change by applying the skills and knowledge acquired during the conference.
Students, student groups, alumni, community members, faculty and staff facilitate sessions in their area of interest or expertise. Sessions focus on leadership skills that may be applied to any social movement and on the many manifestations of injustice and how participants can be involved in creating change. SJLC provides participants with resources and opportunities for engagement on campus, in Middletown, in Connecticut and across the globe.
The conference begins at 11 a.m. with a keynote address from Mark Masselli P '15, P'16. Masselli was honored with a Doctorate of Humane Letters by Wesleyan in 2009 for his work in the health care field.  Along with a small group of Wesleyan students and community activists,  Masselli founded the Community Health Center in Middletown, Conn. as a Free Clinic in 1972 and worked with the National Free Clinic Council based in San Francisco in promoting the development of free clinics across America. He's a founding member of many health and human services initiatives in Middletown, including New Horizons Battered Women's Shelter, Nehemiah Housing Corporation and Oddfellows Youth Playhouse.
The following SJLC sessions and presenters are:
12:15 p.m. "Radical Accessibility" presented by Ariel Schwartz '12 and Catherine MacLean '14 from Wesleyan Students for Disability Rights; 12:15 p.m. "Teacher and Training Accountability," presented by Andrew Ribner '14; 12:15 p.m. "How to be a Good Trans* Ally," presented by Nico Vitto '12;
1:15 p.m. "Educational Markets, Testing and Accountability in Comparative Perspective," presented by Catherine Doren '13 and Daniel Long, assistant professor of sociology; 1:15 p.m. "WesDEF Presnets: Conflict Resolution within Activism," presented by Mariana Eversley '14 and Janika Oza '15; 1:15 p.m. "Religious Impact on 2012 Election," presented by Halbert Weidner and Erin Chase '15;
2:15 p.m. "Connecticut Education Reform," presented by Andrew Ribner '14 and Patrick Riccards from CONNCAN; 2:15 p.m. "Failing Schools and Violent Neighborhoods: Intersecting Problems and Solutions," presented by Alyssa Bonneau '14 and Sam Mcallister '14; 2:15 p.m. "Considering Opportunity – Confronting Racial Segregation in 2012," presented by Erin Boggs '93; 2:15 p.m. "Self-Care as a Radical Technique in Queer Community Organizing," presented by Sarah Lamming '13;
3 p.m. Reflection and wrap-up with Wesleyan staff members Elisa Del Valle and Gretchen Streiff.
The vent is sponsored by the Office of Student Activities and Leadership Development. To register, fill out this form online here. For more information send an email here.