Rev. Billy Warns of the Coming "Shop-Ocalypse" in April 23 Lecture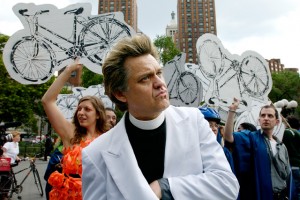 On Monday, April 23, Wesleyan will receive a visit from Reverend Billy (Bill Talen), the anti-consumerism activist and performance artist, who has tried to "exorcise" so many Starbucks cash registers, he's been banned from the coffee shop chain. He will speak at 7 p.m. in Memorial Chapel. The event is free and open to the public.
Talen is best known as the subject of the 2007 documentary, What Would Jesus Buy?, produced by Academy Award-nominated filmmaker Morgan Spurlok and directed by Sundance Film Festival Award-winner Rob VanAlkemade.
In his performance art, Talen takes on the persona of an evangelical preacher to protest the excesses of corporate commercialism.  He and his choir, "The Church of Stop Shopping," preach a broad message of economic justice, environmental advocacy, and anti-militarism. He stages revival-style "services" in public squares, theaters, art museums and parking lots, seeking to make people and institutions mindful of the consequences of their spending. Talen also implores audiences to confront abusive labor practices, exploitative resource extraction, the demise of small businesses and the ecological costs of excessive consumerism. He chants things like "change-aluia" and warns of the coming "shop-ocalypse" to try to get his audience to imagine a world free from consumerism.
"Products, logos, and labels have become our gods; the beings for which we will give up everything we have. Shopping malls are our temples and churches," says Mary-Jane Rubenstein, associate professor of religion, describing Talen's message. "In the style of a revivalist preacher, he calls his audiences to turn away from their self-destructive investment in false gods and turn back toward 'reality,' which is to say to make things rather than buy them; to support small businesses rather than transnational corporations; and to stop the endless, unconscious consumption that's destroying the earth, our bodies, and our civil life together."
Rubenstein is teaching Talen's work in her Introduction to the Study of Religion course, as part of a unit on capitalism and some of its counter-movements as late-modern religious expressions.
The event is sponsored by the Baldwin University Lectures, the Center for the Arts, the Ethics and Society Project, the Office of Institutional Partnerships, the Religion Department, Sociology Department (Hoy Endowment) and Government Department.