Book by Writer-in-Residence Reed Nominated for Shirley Jackson Award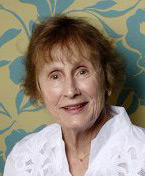 Resident Writer Kit Reed has been nominated for a Shirley Jackson Award. Her book, What Wolves Know, published in spring 2011 by PS Publishing, was nominated in the category of Single Author Collection.
What Wolves Know is a dystopian thriller; a collection of stories, including tales of mothers who are monstrous in their maternalness, families on the brink of implosion, and children mutated by parental pressure. The title story is about a boy raised by wolves who struggles to adapt to the modern world. Reed has published 22 novels and more than 100 short stories. More information about her work is available on her web site.
The Shirley Jackson Awards recognize outstanding achievement in the literature of psychological suspense, horror and the dark fantastic. The awards were established in honor of author Shirley Jackson (1916-1965), who wrote such classic novels as The Haunting of Hill House and We Have Always Lived in the Castle, as well as the famous short story, "The Lottery."
The 2011 Shirley Jackson Awards will be presented on July 15 at Readercon 23, Conference on Imaginative Literature, in Burlington, Mass.