High School Humanities Program Celebrates 40 Years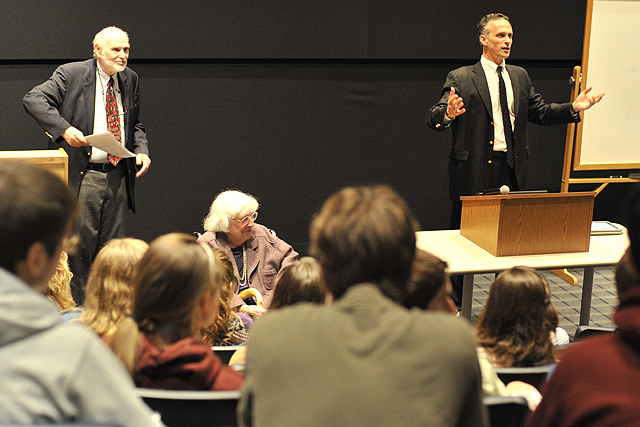 Every spring semester, more than 80 students attend lectures on Hemingway's writing, music and social movements, romantic poetry, Greek tragedies and French essays at Wesleyan. But these students aren't working on a college degree – yet. They're still in high school.
As part of the Community and University Services for Education's High School Humanities Program, high school students from six area schools spend six Fridays on the Wesleyan campus, taking classes from Wesleyan faculty. On May 4, Wesleyan hosted a celebration of the program, which is more than 40 years old.
"We're essentially offering high school students college courses in the humanities. They're getting a good taste of the college experience," says program coordinator Peter Frenzel, professor of German Studies emeritus.
This semester, Wesleyan faculty Ellen Nerenberg, Andy Curran, Stephanie Weiner, Sean McCann, Rob Rosenthal and Andrew Szegedy-Maszak are teaching the morning classes. In the afternoon, students watch a film on the same theme as the morning's lecture.
For example, after a reading, lecture and discussion on Homer's epic poem, The Odyssey the students watched O Brother, Where Art Thou? with their professor, Andrew Szegedy-Maszak, the Jane A. Seney Professor of Greek.
Established in 1967 by Marjorie Daltry Rosenbaum, Community and University Services for Education (CAUSE) has existed to identify and facilitate the implementation of cooperative programs and projects between Wesleyan University, the Middletown community and the public and private schools in the Middletown area.
The foocus of these programs has been on intellectual and cultural enrichment. Thousands of students have benefited over the years.
Between 80 and 100 students from local public (Middletown High School, Vinal Technical High School, Portland High School and Haddam Killingworth High School) and parochial schools (Mercy and Xavier) participate in the High School Humanities Program every year.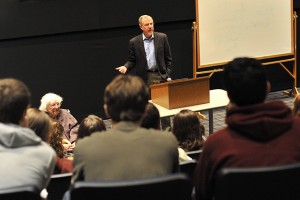 Another unique project supported by CAUSE is The Art Show, which exhibits over 1,200 artworks of Middletown students in grades K-12 at Wesleyan's Zilkha Gallery. This annual showcase, reflecting the art curriculum in the Middletown Public Schools, draws hundreds of students and their families to campus each spring.
CAUSE also collaborates with Middletown Public Schools and Wesleyan's Center for the Arts on a project called Silent Sounds. The focus is to encourage young people to explore, enjoy and create literary arts. For eight years now, students in Middletown Public Schools submit poetry and prose for juried evaluation, and winning entries (roughly 30 each year) are compiled into a printed publication.
For more information about CAUSE, contact Frank Kuan, at 860-685-2245.