Anthropology Class Completes Service Learning Project in Brooklyn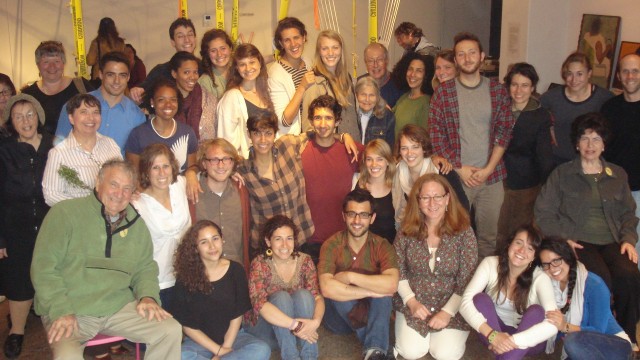 The students in ANTH 289, "Ritual, Health, and Healing" stepped outside the Wesleyan campus this spring to participate in a service learning project in the North Brooklyn neighborhood of Greenpoint.
According to Assistant Professor of Anthropology Gillian Goslinga—who co-taught the course with Artist-in-Residence Jill Sigman, a North Brooklyn-based performance artist—Greenpoint is a neighborhood facing multiple health, social and environmental challenges. The students in this Creative Campus anthropology course, which is cross-listed with Science in Society and Dance, had the opportunity to collaborate with a number of community organizations, each dedicated to addressing a different issue. This is the first time Goslinga and Sigman have taught the course, which covers topics such as shamanic ritual and traditional medicine, as well as community health and social and environmental justice, and tackles questions of the efficacy of ritual and the traditional ritual/modern medicine dichotomy. The course also has a weekly movement lab, led by Jill Sigman, where students use choreographed movements to explore course concepts.
The service learning project in Greenpoint grew out of Sigman's artistic work. A multi-media artist and choreographer, Sigman had been commissioned to create the seventh hut in her "Hut Project" by the Arts@Renaissance unit of St. Nicks Alliance, a community organization that works on affordable housing issues in North Brooklyn. For her Hut Project, Sigman builds sculptures, dwellings and stages out of repurposed and found materials, which then become sites for performance and community discussions on the critical issues of garbage, environment and housing. Goslinga says, "The tie-in with the themes of the course was obvious."
"One of my goals for the course had been to invite students to query default biomedical framings of health and healing, where individual biology tends to be over-privileged even in epidemiological studies, and to broaden thinking about causalities for suffering, extending these to social, historical and environmental traumas, where suffering can also be about loss and shock, forced displacement and discriminatory policy decisions, structural poverty and environmental degradation (often all are related)," she says. "In these contexts, community ritual can be a restorative response."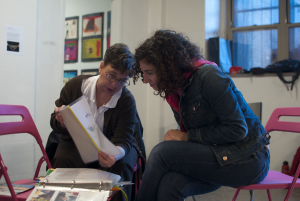 Goslinga describes the specific challenges facing the area: "North Brooklyn is a community that has been actively fighting for its own health and integrity as a community for decades now. It's been torn asunder by the building of the BQE (Brooklyn-Queens Expressway). It has the highest concentration of waste transfer stations in the whole of New York City; it's the site of the largest garbage route out of Manhattan. The neighborhood is gentrifying, pushing out seniors and, significantly, African Americans who have been residents of North Brooklyn since its founding. Affordable housing is increasingly a serious health issue, and the community's public schools are now under assault by charter schools, which have arrived in the wake of gentrification."
Following conversations with community members and organizations working to address these issues, Goslinga and Sigman developed a five-week service learning component to their course. The students broke down into working groups and collaborated with community members to address specific issues.
For example, one group of students worked with a coalition of organizations called GREC (Greenpoint Renaissance Enterprise Corporation), which is trying to repurpose a complex of buildings formerly housing the Greenpoint Hospital, decommissioned in the mid-1980s. The students designed a Wikipedia page to help the group publicize its efforts and cause more broadly. Other students teamed up with OUTRAGE (Williamsburg/Greenpoint Organizations United for Trash Reduction & Garbage Equity), which works to educate the public about the links between waste transfer stations, the Exxon-Mobil oil spill in bordering Newton Creek, New York City zoning policies, and the high rates of asthma, cancer and lupus in the area. One student team produced a short video for YouTube on the organization's efforts, while another student team designed a waste transfer tour map of the neighborhood to be uploaded to Habitatmap.org, and used to organize actual walking tours. Yet another student team partnered with GEM (Grassroots Education Movement) to design a brochure for parents affirming the community's public schools (in response to the marketing blitz of charter schools). Still another student team carried out oral histories of elderly women activists from the community as part of the local Women Heritage Project. The class took a total of four trips down to Greenpoint on four different weekends in March and April. These trips were funded by the CFA with a supplemental grant from The Service Learning Center.
"I see these immersions as essential not just to students' learning, but to who they are as people, because it helps them concretize what they are learning intellectually as well as invites them to reflect critically and productively on this learning. This tack back and forth between theory and practice, between the intellectual and the biographical, is one of the most enriching learning experiences one can have, in my opinion. It prepares us for being responsible members of our communities," Goslinga says.
All the diverse student projects were brought together in a community ritual on April 22, where the opening of Sigman's Hut Project #7 was announced. Sigman erected a virtual structure on the spot where the future Hut will be, and designed a score where students served the community tea prepared from herbs grown in a neighborhood community garden. Before tea was served, student teams presented their work as "offerings" to the gathered community.
"The event was amazing," says Goslinga. "The generosity of the community was reciprocated with the gratitude of the students who had learned so much from their community partners. Jill's score for the afternoon facilitated the feeling of communitas brilliantly. We were all energized and inspired by what was shared."
Goslinga and Sigman have received several emails from community members who participated in the project, all with positive responses to the experience.
Michael Rochford, executive director of St. Nicks Alliance, wrote, "This event really fulfilled our purpose of bringing community together around the arts. It was a wonderful reaffirming experience."
Laura Hoffman of OUTRAGE wrote of the event, "It was one of the nicest, homiest events that I've ever attended. I can't say enough about the time, effort, and caring that each and every student and participant put into making this wonderful experience for the community. Even the interview process felt therapeutic. I personally feel very touched and connected to every aspect of this event thus far, and can't wait to see Hut #7. Hopefully we'll see some of the students at that time. But if not, I certainly won't forget them."
Going forward, Goslinga says she is interested in working with these community organizations to set up Wesleyan summer internship programs. She notes that there are a large number of Wesleyan alumni living in Greenpoint, several of whom attended the community ritual. Jill Sigman's Hut #7 opens at St. Nicks on May 11.