150 Events during 2012 Reunion & Commencement Weekend May 24-27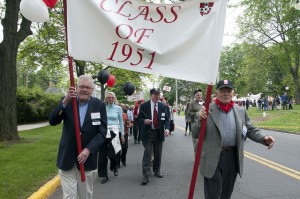 Join the Wesleyan community for class reunions, educational WESeminars, picnics, campus tours, a parade of classes and much more during the 2012 Reunion & Commencement festivities May 24-May 27 on campus.
Highlights include an Eclectic party featuring The Rooks; an all-college picnic and festival on Foss Hill; a 50th Reunion and President's Reception for the Class of 1962; a champagne reception for graduating seniors and their families; an eco-friendly All-College Dinner; "Senior Voices" with the Class of 2012; the traditional All-College Sing; Andrus Field Tent party featuring Kinky Spigot and the Welders; and of course, the 180th Commencement Ceremony on May 27. U.S. Senator Michael Bennet '87, a leading advocate for education reforms that support great teaching, will deliver the Commencement address.
"With more than 150 events, R&C Weekend literally has something for everyone," says Gemma Fontanella Ebstein, associate vice president for external relations. "But it's really the people – alumni, students, faculty, staff and their families – who make the weekend memorable."
WESeminars provide opportunities to revisit the classroom and experience firsthand the academic excellence that is the essence of Wesleyan, with presentations by scholars, pundits, and other experts in their fields. Programs run approximately 60 minutes, followed by audience Q&A.
Topics are mindfulness-based stress reduction; a sampling of Wesleyan alumnae performance artists; music and literature of the '60s; the Beman Triangle Archaeology Project; money, marketing and the media; the environment; highlights of the Israeli Film Festival; the history, culture and future of the U.S.; the Smithsonian's National Museum of African American History and Culture; social entrepreneurship; making it in the performing arts; parenthood and more. Wesleyan faculty, alumni, parents, and students speak at these presentations.
R&C Weekend also includes two gatherings for graduating seniors and grandparents; the Wesleyan's Farmers Market, an Alumni Association Annual Meeting and awards ceremony featuring Lin-Manuel Miranda '02; academic and department open houses; a Japanese tea ceremony; a talk with the incoming Athletic Director Mike Whalen '83; performances by student musicians and dancers, stargazing, alumni trustee elections and more.
The full R&C schedule is online here.
At least two former Wesleyan presidents will be on campus during the weekend. On May 25, Wesleyan President Michael Roth, Wesleyan Donor Associates and trustees will gather at a community celebration in recognition of the Bennet family legacy to dedicate Bennet Hall in honor of President Emeritus Douglas Bennet '59, P'87, P'94, Midge Bowen Bennet P'87, P'94, and the Bennet family. Bennet Hall is the former "Fauver Frosh" Residence Hall. On May 26, Wesleyan President Emeritus Colin Campbell will serve as a panelist in a discussion on "Student Freedom and Responsibility at a Very Liberal Arts College."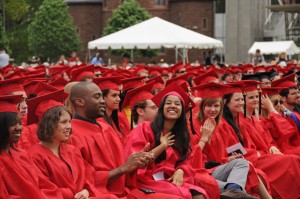 Commencement activities will begin at 11 a.m. May 27. Senator Bennet; Glenn Ligon '82, a multi-talented, nationally-recognized artist; and Cecile Richards P'13, president of Planned Parenthood Federation of America, will receive honorary degrees.
R&C registration begins at 10 a.m. May 24 in Usdan University Center. Alumni, parents, students and families should check in for a final weekend schedule, meal tickets, a welcome packet, campus maps and more. As a sustainability effort, Wesleyan is working towards eliminating bottled water from campus; campus guests are asked to reduce their bottled water consumption by carrying their own refillable container if possible. A bottled water refilling station will be available throughout the weekend.
Want to celebrate R&C online? University Relations encourages alumni to Tweet about Wesleyan using the hashtag #rc2012 and to post about Wesleyan by friending and tagging Wes Cardinal on Facebook. Photos of the weekend will also appear on the R&C page on Wesconnect and Wesleyan's Facebook page, and posts will be compiled into a Storify stream commemorating the weekend.