Adelstein, Greene, Telfair Honored with Binswanger Prize for Excellence in Teaching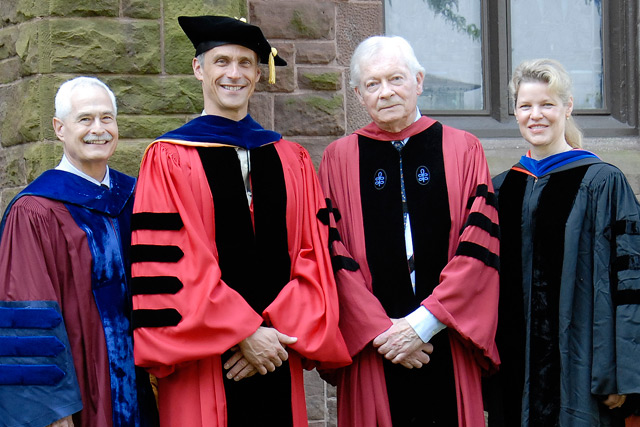 Three Wesleyan faculty received The Binswanger Prize for Excellence in Teaching during the 2012 Commencement on May 27. The Binswanger Prize was inaugurated in 1993 as an institutional recognition of outstanding faculty members. The award is made possible by gifts from the family of the late Frank G. Binswanger Sr., HON '85
The standards and criteria for the annual prizes shall be excellence in teaching, as exemplified by commitment to the classroom and student accomplishment, intellectual demands placed on students, lucidity, and passion. Recommendations may be based on any of the types of teaching that are done at the university including, but not limited to, teaching in lecture courses, seminars, laboratories, creative and performance-based courses, research tutorials and other individual and group tutorials at the undergraduate and graduate level.
This year's recipients are as follows:
Richard Adelstein, the Woodhouse/Sysco Professor of Economics
Richard Adelstein has an S.B. from the Massachusetts Institute of Technology, and received an M.A.T. from Harvard University, and a J.D. and Ph.D. from the University of Pennsylvania and its Law School. He has taught economics and social studies at Wesleyan since 1975. He has spent sabbatical years as a visiting scholar at Oxford University, Harvard University, and the Institute for Advanced Study in Princeton, New Jersey, and as a Fulbright Visiting Professor at the University of Munich.
Professor Adelstein's teaching and scholarly interests lie at the intersection of economics, law, history and philosophy, and more specifically in the historical development of social institutions and the problem of how social order is created and maintained. His articles have appeared in scholarly journals in a range of disciplines, and this year he published The Rise of Planning in Industrial America, 1865–1914, which explores the early history of big business (and political reaction to it) in America.
Professor Adelstein is married, has two adult daughters, and is a lifelong fan of the Chicago Cubs—all of which have given him (as he puts it) a deep appreciation of the limits of reason and control.
Nathanael Greene, professor of history
Nathanael Greene joined the Wesleyan faculty in 1963 and served the University as vice-president for academic affairs from 1977 to 1990. He has an A.B. from Brown University, and an A.M. and a Ph.D. from Harvard University. He has received awards from the Fulbright Program, the John S. Guggenheim Memorial Foundation, and the American Council of Learned Societies. His books include From Versailles to Vichy: the Third French Republic, 1919–1940 and Crisis and Decline: The French Socialist Party in the Popular Front Era. He is also the author of numerous articles on French politics and society and is editor of collections on European socialism and fascism.
Courses taught by Professor Greene include surveys of European history since 1815, and seminars on the Spanish Civil War, appeasement and the origins of the Second World War, and France in the 1930s and 1940s.
He now joins his wife, Anne Greene, director of Writing Programs, director of the Wesleyan Writers Conference, adjunct professor of English, in the company of recipients of the Binswanger Prize for Excellence in Teaching. She received the prize in 2006.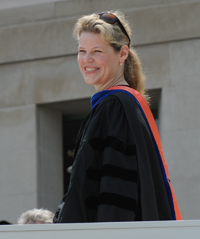 Tula Telfair, professor of art
Tula Telfair joined the Wesleyan faculty in 1989. She has a B.F.A. in painting from Moore College of Art, where she was a W. W. Smith Foundation Fellow, and earned her M.F.A. in painting and critical theory, as a graduate fellow, from Syracuse University. She makes large oil paintings that explore definitions of painterly illusion and representation, memory and the natural world. Her images of epic landscape and dramatic weather are invented purely from memory, and her art has been described as "a brilliant extension of the progression of landscape painting from the backdrops of the Renaissance through the travelogues of the 19th century and the realism that followed."
Professor Telfair's work has been shown extensively in New York City, Los Angeles, and Chicago, as well as in Paris, Germany, Dhaka, Sri Lanka, and Lisbon. She has had 38 solo exhibitions, and her paintings have been included in 125 group shows, all in major exhibition venues. Her work is in 41 public collections, among them the New Orleans Museum of Art, the Redding Art Museum, General Electric Corporation, the Federal Reserve Bank, MasterCard Corporation, the U.S. Department of State, Deloitte & Touche, Cablevision, Brauerei Beck and Company and NBC Universal/Comcast.