Hoskins '12 Creates Treasure Hunt Installation on Campus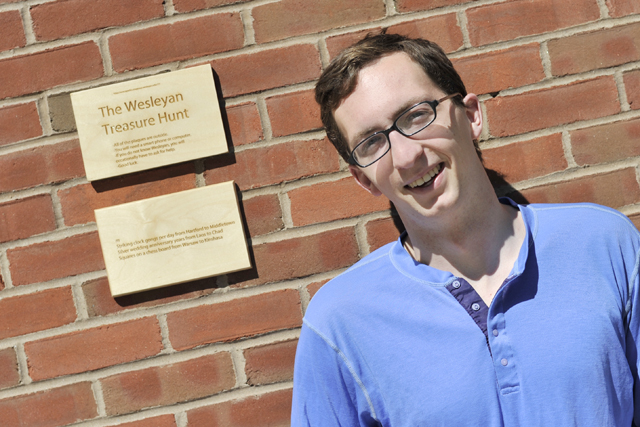 Striking clocks gongs per day from Hartford to Middletown.
Silver wedding anniversary years from Laos to Chad.
Squares on a chess board from Warsaw to Kinshasa.
Can you solve this puzzle? If so, you've started a treasure hunt, right on Wesleyan's campus.
The Wesleyan Treasure Hunt, a permanent campus installation, begins at a plaque located in the southeast corner of Usdan University Center near the Huss Courtyard. It encourages students to explore the nooks and crannies of campus, and interact with the buildings as they look for new clues.
"The hunt encapsulates everything I like about Wesleyan," says its creator Jack Hoskins '12. "The students I've met here are people who love to explore and think and solve puzzles, so not only is the treasure hunt intellectually challenging, it captures the same adventurous spirit and curiosity that makes people at Wesleyan so incredible."
Hoskins, a government major, warns that although the clues are "elegant," most are non-verbal and challenging. He suggests going on the hunt in groups, and bringing along a smart phone with internet-searching capabilities. Pre-frosh and first-year-student may need a campus map and be willing to ask the upperclassmen for help.
"This treasure hunt is very, very difficult, and it can't be done in an afternoon," he says. "A lot of people give up when they see the second clue. It's going to take you a while to finish."
Hoskins, a native of Olympia, Wash., grew up solving puzzles and making treasure hunts for his friends. His spirit for adventure continued throughout high school and college, and in 2011, he suggested the idea of a treasure hunt to his class dean and the Wesleyan Student Assembly. After approving the idea, the WSA's Student Budget Committee awarded Hoskins with $500 to cover the cost of supplies and installation.
Wesleyan's Physical Plant designed the wood plaques and coated them with an environmentally-friendly finish to withstand rain, sun, snow and sleet. Hoskins used the Center for the Arts' wood burning printer for the lettering.
"I think a lot of people might think of a treasure hunt as something childish, but Wesleyan is a place where people don't think that the curiosity and love of new things that some people call childish is a bad thing," Hoskins says.
So far, 15 students have completed the treasure hunt, which was installed in May.
But is there really a treasure at the end of the hunt?
"There's something there … but I cannot say what," he says, smiling. "But, like at a real treasure hunt, if you get there second, there's no gold left."