Corwin '62, Wasch '52, P'84 Honored with Baldwin Medals for Service to Wesleyan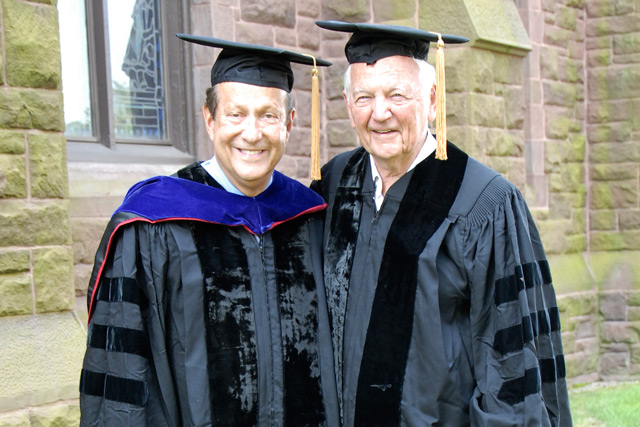 Two Baldwin Medals, which honor the late Judge Raymond E. Baldwin '16, were bestowed on Bruce Corwin '62 and William Wasch '52, P'84 on May 27. The Baldwin Medal is the highest honor that Wesleyan's alumni body presents for extraordinary service to Wesleyan or for significant contributions to the public good.
Bruce Corwin is chairman and CEO of Metropolitan Theatres Corporation, a motion picture theater circuit of 125 viewing screens in California and Colorado. He has served on the executive committee of the National Association of Theatre Owners, as well as with other professional organizations. He is a founding member of the Santa Barbara and Palm Springs International Film Festivals and has been a trustee of the American Film Institute.
Corwin has received numerous awards for his remarkable service to his community. He served on former Mayor Tom Bradley's Blue Ribbon Commission of 40 in the City of Los Angeles, as president for the Los Angeles Fire Commission, and on the board of directors of Rebuild Los Angeles. He is past president and current chairman of the board of directors of Temple Emanuel of Beverly Hills.
Devoted to educational issues, he has served as a board member of the Coro Foundation for more than 25 years and is past president of its National Board of Governors. He is currently working to improve the education of inner city children by reforming Los Angeles High School and starting a new charter school, the Apple School, in South East Los Angeles.
Corwin received an Honorary Doctor of Laws from Wesleyan in 1987 and an Outstanding Service Award in 2002. He and his family have generously supported film studies, the Cinema Archives, athletics, Jewish student life and more. An enthusiastic Wesleyan volunteer, he has served as an alumni-elected member of the board of trustees, as a member of the Los Angeles President's Council and the Campaign Council, and as the co-chair of his 40th and 50th Reunions.
Bill Wasch has had two distinguished careers, and throughout both he and his wife, Susan, have been remarkable contributors to Wesleyan. In 1964 he joined the Wesleyan staff to direct the annual fund. From 1968 to 1984, he served as director of development and director of alumni programs.
After retiring from Wesleyan, he set up a consulting firm that specializes in customized housing options and personalized services for the 50-plus age group. He designed, with his architect daughter Christina, the "Middletown House," a completely accessible home located on the grounds of his Middletown residence. He is the author of Home Planning for Your Later Years (1996), and in 2004 he hosted a Connecticut Public Television original documentary, Seniors: Living a Quality Life, a 10-part series. In 2005, he hosted another 10-part series, In Our Prime.
His expertise in issues affecting older people led him to work with nonprofit organizations including Elderworks (serving as executive vice president for two years), the Home Outreach Ministry to the Aging (for which he was founding director and which awarded him its "Shining Spirit" award in 1999), the National Council on Aging, and the Middletown Senior Affairs Commission (which he chaired for 12 years).
Always a dedicated Wesleyan citizen, he served as an alumni-elected trustee from 1997 to 2000. He and Susan are a constant presence at Wesleyan events, and they generously provided for the creation of the Wasch Center for Retired Faculty. Among many family connections, two of their children are Wesleyan graduates: William Jr. '84 and Heidi '84. Another son, Frederick, started with the class of 1992 but graduated from Princeton.