Bennet '87, Ligon '82, Richards P'13 Receive Honorary Degrees at Commencement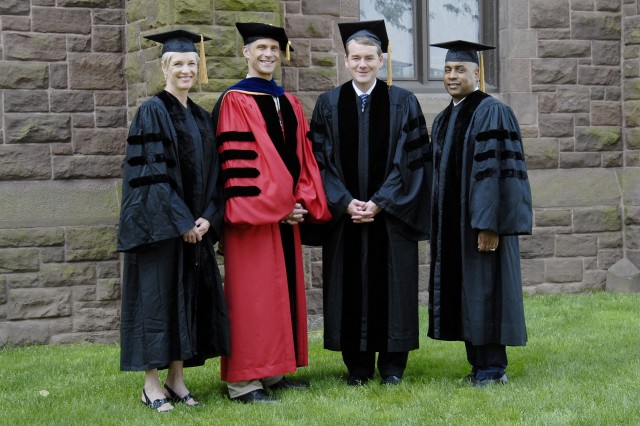 During the 2012 Commencement Ceremony on May 27, Wesleyan President Michael Roth awarded  U.S. Senator Michael Bennet '87, Glenn Ligon '82, and Cecile Richards P'13 with honorary degrees.
Michael F. Bennet '87
Michael F. Bennet was elected to his first full term as U.S. Senator for Colorado in November 2010. He is a pragmatic and independent thinker who embodies the values of the western state he represents, and whose work has contributed to good in the world, in the best of the Wesleyan tradition.
As the father of three little girls, he is driven by a deep-seated obligation to create more opportunity for the next generation. He has been a tireless advocate – first as Denver Schools superintendent and now as a member of the Senate Education Committee – for bold, locally driven changes to public education that would ensure every child is prepared to compete in a rapidly changing economy.
His concern for the next generation has fueled his efforts to build bipartisan consensus around a comprehensive plan for deficit reduction. It has also informed his efforts to ensure the pharmaceutical drugs we take every day are safe and do not harm American families.
As Superintendent of Denver Public Schools, he led an innovative and inclusive reform effort that turned around failing schools and produced strong gains in reading, math, writing and science.
Senator Bennet also served as chief of staff to then-Denver Mayor, now Colorado Governor, John Hickenlooper '74, where he helped balance a historic budget deficit and make city government more responsive to the people of Denver.
After graduating from Wesleyan, he earned a law degree from Yale Law School, where he was editor-in-chief of the Yale Law Journal. He worked as managing director of the Anschutz Investment Company, where he oversaw the restructuring of more than $3 billion in corporate debt.
He has many family connections to Wesleyan: most immediately, his sister Holly Bennet '94 and father Douglas Bennet '59, Hon. '94, who served as president from 1995 to 2007.
Glenn Ligon '82
Glenn Ligon has created a body of work that explores questions of race, sexuality, history, representation, and language—issues that resonate on this campus. He is particularly noted for a series of text-based paintings, made since the late 1980s, which draw on the writings and speech of individuals such as Jean Genet, Zora Neale Hurston, Gertrude Stein, James Baldwin and Richard Pryor. His subject matter covers a wide range—from the Million Man March and the aftermath of slavery to 1970s coloring books and the photography of Robert Mapplethorpe.
The Whitney Museum of American Art held a comprehensive mid-career retrospective exhibition of his work in 2011. The exhibition traveled to the Los Angeles County Museum of Art in the fall of 2011 and is currently at the Modern Art Museum of Fort Worth. His work also gained national attention when President and Mrs. Obama chose his painting Black Like Me #2 for their private living space at the White House.
He has had solo shows at the Hirshhorn Museum and Sculpture Garden in Washington, D.C.; Brooklyn Museum of Art; Saint Louis Art Museum; the Studio Museum in Harlem; San Francisco Museum of Modern Art and The Power Plant in Toronto, among other venues. He has received grants and fellowships from the National Endowment for the Arts, Art Matters, the Joan Mitchell Foundation and the John Simon Guggenheim Memorial Foundation.
Cecile Richards P'13
As president of Planned Parenthood Federation of America and the Planned Parenthood Action Fund, Cecile Richards is a national leader in health care and social justice.
Since joining Planned Parenthood in 2006, she has ensured that it played a significant role in the development of health care coverage and services for women under the Affordable Care Act, led a highly effective campaign to preserve access to Planned Parenthood preventive care, doubled the number of individuals who support the organization to more than 6 million and introduced a youth initiatives program that trains young people to be effective leaders and advocates for health care.
Previously, she was deputy chief of staff for House Democratic Leader Nancy Pelosi. In 2004, she founded and served as president of America Votes, a coalition of 42 national grassroots organizations dedicated to improving voter participation nationwide.
In 2011, she was named to Time magazine's annual list of the 100 most influential people in the world. She currently serves on the board of the Ford Foundation. Her husband is Kirk Adams '73 and their daughter, Hannah Adams, is a member of the class of 2013.