Ospina is an Expert on War and Memory in Contemporary Latin American Culture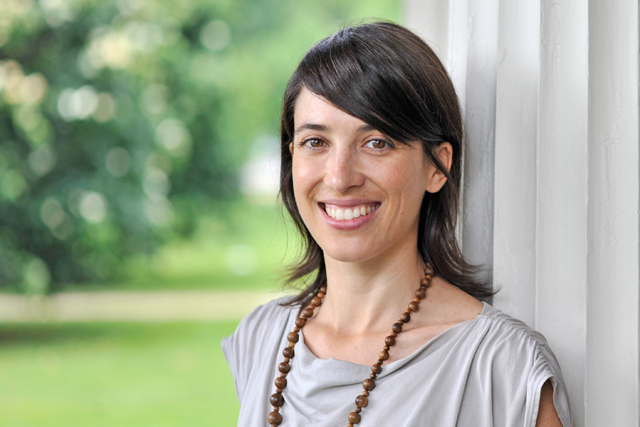 Assistant Professor Maria Ospina, who recently completed her first year in the Romance Languages and Literatures Department at Wesleyan, can trace her academic interests directly back to her childhood in Colombia and her longtime interest in history.
"My interests in violence, memory and culture stem in part from my own experiences growing up in Colombia during the 1980s and 90s, in a very complex region that has been marked by armed conflict, the hemispheric War on Drugs and different waves of migration. The combination of political turmoil and a vibrant cultural production that actively reflected on the histories of violence and crisis in the region fostered my interest in the relationship between aesthetics, politics and historiography," she explains. "Realizing that it is in Latin American literature, art, fiction and performance where the most productive social and political reflections about the region have and are taking place led me to want to study it in depth."
Ospina left Colombia when she was 18 to attend Brown University, where she studied history and cultural studies. After working in New York for a few years, she went on to earn a Ph.D. in Hispanic Literatures from Harvard University. During her time at Harvard, she traveled frequently between the U.S. and Colombia in order to coordinate and curate the Cartas de la Persistencia (Letter of Persistence) project. Ospina describes the project as "an important public trans-disciplinary project and archive funded by one of the country's major cultural institutions. This amazing archive of thousands of recent testimonies about civil resistance to violence led us, among several public initiatives, to publish an anthology, which I edited in 2008." After earning her Ph.D., Ospina went on to hold a two-year post-doctoral fellowship at Harvard, where she taught several courses on contemporary Latin American culture.
Teaching at Wesleyan appealed to Ospina because, "I was looking for a liberal arts institution where teaching and research share equal importance—a place that values and fosters reflections about the intersections between arts and politics. Also, I was drawn by the collegial and collaborative spirit of the faculty here, and was particularly interested in the strength of Wesleyan's arts, film and humanities programs."
During her first year at Wesleyan, Ospina taught "Introduction to Hispanic Cultures," the gateway class to the Romance Languages and Literatures major.
"It's a wonderful course, which prepares students to delve deeper into the culture of Spanish speaking countries and to get really excited about further studying the area," she says. She also taught a course called "Narratives of Crisis: Violence and Representation in Contemporary Latin American Culture," which, she says, "explored the intersections between symbolic practice (film, testimony and literature) and histories of violence and crisis in contemporary Latin America and looked at the ways in which cultural texts operate vis-à-vis contemporary dynamics like drug trafficking and armed conflict."
In the spring, Ospina taught a course called "Minor Tales: Narratives of Youth and Childhood in Latin America," which focused on Latin American literature and film about childhood and youth in the 20th and 21st centuries.
Ospina says she has found her students to be "creative, interested, and excited about politics in the broadest sense of the word. I feel extremely lucky to teach a very diverse group of students."
Next year, she looks forward to teaching the "Introduction to Hispanic Cultures" course again during both semesters, as well as a course called "Dangerous Plots: Fictions of the Latin American Jungle." This class will explore the ways in which nature has been plotted in fiction, films and popular culture, focusing specifically on the tropical jungle as a space that has been central to the way Latin America has been imagined for centuries. In the spring, she will teach "Spanish American Literature and Civilization," which studies some of the major writers and intellectuals in Latin America from the colonial period to the present.
Ospina also had a very productive year in research. She recently finished an article about representations of Amazonia in the context of the War on Drugs, which will be published in Chile in the fall as part of a volume on virtual geographies of Latin America. She also presented work on memory and armed conflict in recent Colombian film at a conference in Lisbon focusing on post-conflict cinema, and attended the Cartagena International Film Festival.
Here at Wesleyan, Ospina is involved in organizing a mini film festival of recent acclaimed Spanish and Latin American film, which will take place at the Wesleyan Film Center in September. "Everyone is invited!" she says.
Outside of work, Ospina enjoys writing fiction, biking, dancing, and spending time in New York City. In addition, she says, "Recently, I've also taken up vegetable gardening, because I want to grow some of the food I eat. I grew up in a family of farmers and gardeners in Colombia, but I've never had the chance to plant a garden in the Northern Hemisphere—that is, in a place with seasons. It's been fun, but I'm in a strenuous fight with the local ant population." Of late, Ospina also has taken an interest in studying birds, particularly migratory species.