Redfield, Herbst Discuss Transit of Venus on Fox 61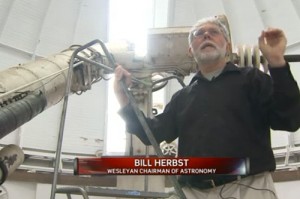 On a feature for Fox 61, Seth Redfield, assistant professor of astronomy, and Bill Herbst, chair and the John Monroe Van Vleck Professor of Astronomy, discussed the transit of Venus across the Sun, and showed viewers how Wesleyan would be marking the event with public viewings from Van Vleck Observatory.
"So here we have a case, where we can see the affect of a planet on a star, close up," Herbst said in the feature, which aired on June 5.
The next transit won't happen intil 2017.
"It's a very wonderful opportunity to learn something new about planets and their atmospheres and solar systems in general," Redfield said.