Ribner '14 Studying Spatial Navigation, Early Number Knowledge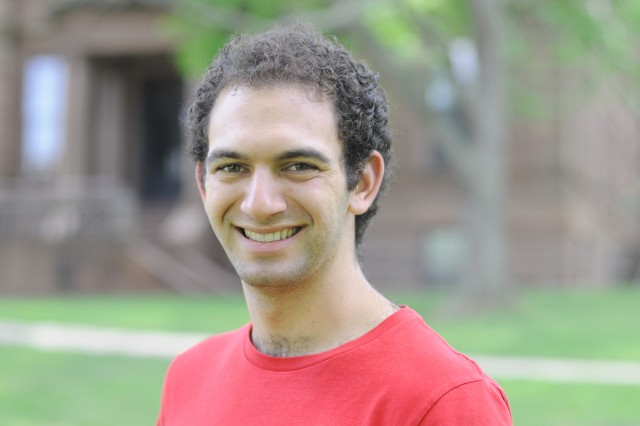 Q&As with outstanding students is an occasional feature of The Wesleyan Connection. This issue we speak with Andrew Ribner from the Class of 2014.
Q: Andrew, you're a rising junior, working toward a university major in educational psychology and learning theory and biology. Please explain what a university major is and why you chose this degree path.
A: A university major is essentially an interdisciplinary create-your-own major. It's an option that isn't very highly publicized, and is completely unique to each student who does it. It's an intense application process that involves writing a formal proposal and four-year class schedule, finding three advisors who will support and recommend you to the committee, and justifying the necessity of the major. Essentially, it's creating an entire unique department using classes that are already offered in other departments. For my university major, I'll be investigating how children learn through a combination of psychology, sociology and neuroscience.
Q: This summer, you're working in the Cognitive Development Lab with Anna Shusterman, assistant professor of psychology. Why did you want to spend your summer at Wesleyan?
A: I chose to stay at Wes this summer for a number of reasons. Anna is the primary advisor on my university major, and I'm planning to do an experimental thesis through her lab as it intersects with sociology. She recommended I stay this summer to get a start on my thesis research because she's going to be on sabbatical in the fall and I need to start running participants while she's out. I also just wanted to see what research was like and whether it's something I enjoy—which it is. There are also a lot of things I'm planning for the fall, so I wanted to be able to be on campus to talk to professors and other students for some of those things.
Q: Tell us about your research and what you hope to accomplish this summer or in the future. Will you be writing a thesis?
A: Currently, I am working on a spatial navigation project that Anna has been working on for some time in various incarnations. We're trying to see whether children three to seven years old will reorient on different stimuli to find hidden stickers after being spun in circles. She originally did this with one red wall and three white walls, and we've now tried using a landscape, and a carousel to see whether the different scenes—and different types of information provided—will influence whether they can find the stickers.
I am planning to do a thesis, which is a three-year longitudinal study. It is based on a few studies that try to find the cognitive basis of math abilities. It has been shown that early math abilities have a huge effect on later academic achievement, and that socioeconomic status have an effect on early math abilities. My study is trying to correlate socioeconomic status with any of the underlying cognitive abilities. Ideally, one finds the variable in the various socioeconomic statuses to create an intervention to equalize the playing field and narrow the achievement gap. That won't happen anytime soon, though.
Q: During the academic year, you are the photography editor for the Wesleyan student newspaper, The Argus. Is this a challenging role?
A: I probably do a lot more taking photos than I do editing them. My co-editor this year probably wasn't a huge fan of that, but we got things done. I'm the dance department photographer, and sometimes theater department photographer, as well as the unofficial Second Stage photographer and go-to photographer for most of the dance groups on campus. It keeps me pretty busy. As to the Argus role, we have a running joke among the editorial staff that the Argus is a trap, and it will take over anyone's life if they let it. I probably spend 10 hours per week in production and meetings, and on any given week spend another 5-10 hours shooting. It's a part-time job, and we don't get paid anything for it. This fall, I'll be stepping up as the managing visual editor. Ultimately, I'll be looking the overall appearance of the paper and web site and making sure photos look good.
Q: Other than photography, what are your hobbies and interests?
A: I've made a name for myself in a few places on campus. I'm "the photographer", "the baker," and "the education guy." I lived in Full House—the cooking and eating house—last year and love to cook and bake. I've managed to bake an average of five things per week this summer, largely because I have a ready-made audience for all of my baked goods working in a lab. I'm a particular fan of cake baking, but will try just about anything. I've been trying to start something of an education movement to bring an awareness of the national education crisis to the student body. It's going pretty well so far!
Q: For the past year, you've been involved with the Breakthrough Collaborative, a non-profit organization that helps high-potential, low-income students to attend college or pursue careers in education. Why did you get involved in this organization?
A: I taught with Breakthrough last summer in San Juan Capistrano and fell in love with it. I then became the campus recruiter for Wes this year. I had always been interested in education, and a friend mentioned that I should maybe try this program that she had done two years, so I applied two days before the deadline only on her recommendation. After a summer teaching biology to an amazing group of rising ninth graders, I had to stay involved in some way, and figured I would try to spread my love for the program to other potential teachers.
Q: Where are you from and why did you choose Wesleyan?
A: I'm from San Diego. My parents are from New York City, so I always felt a draw to come back to the East Coast and see what life was like for them growing up. In doing college searches, I knew I wanted a small liberal arts college that was strong in the sciences, so Wesleyan quickly made it onto that list. Ultimately, it was the people who drew me to Wes. When I did my overnight in the fall of my senior year of high school, I instantly felt welcomed by the campus community. More than at any other school, I felt that I was being made a part of the group, rather than being allowed to tag along with it.
Q: What will you remember most about your time at the university?
A: My peers. As I've found my place as a student at Wes, I've found this to be even more true than I had initially thought. Everyone here is so passionate, engaged, and enthusiastic. Everyone loves what s/he does, and will ramble for hours about his/her interests.
Q: Any post-Wesleyan plans yet? Grad school?
A: Plans change, but at the moment, I hope to teach for a couple years after college. I would love to teach high school biology for low-income students as I did with Breakthrough. I need to get out of the intensive academic environment before I go back to it. I plan to eventually go back to school for a Ph.D. I'd love to further pursue interactions of sociology and psychology in childhood learning, but I have a lot of school to finish before then!