756 Students Join the Class of 2016 on Arrival Day
(NEW! Arrival Day video!)
[youtube width="640″ height="420″]http://www.youtube.com/watch?v=GxAC03h8bg4[/youtube]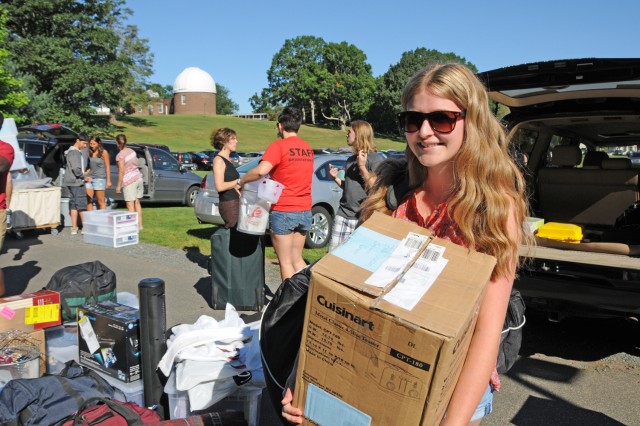 At 8:30 a.m. on Aug. 29, Lorin Ferris '16 of Bellevue, Wash. arrived on Wesleyan's campus in a rented Jeep, packed with her West Coast belongings.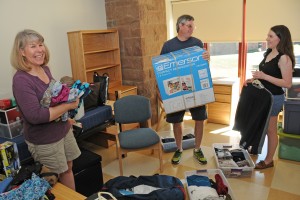 "I brought my entire closet," she says, standing among disheveled heaps of half-unpacked suitcases and boxes in her Butterfield Residence room. "Most of this stuff is clothes and jackets … also bedding, sheets and towels. I did some shopping here (in Connecticut), but I brought a lot with me, too."
"You couldn't have brought anything more," says her father, Frank.
Lorin, who plans to major in mathematics, was one of 756 students who joined the Class of 2016 on New Student Arrival Day. Of these, 64 students are from international countries. An additional 58 transfer students moved into Wesleyan residences on Arrival Day and participated in New Student Orientation.
While students decorated their new home-away-from-home and mingled with their new hall-mates, parents participated in question-and-answer workshops presented by the Dean of Students and Dean for the Class of 2016.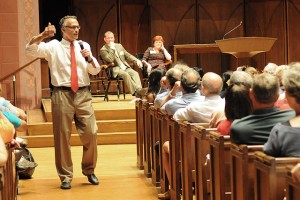 Wesleyan President Michael Roth and other university administrators welcomed parents and new students during the President's Remarks for Families.
New Student Orientation, ongoing through Sept. 2, includes information sessions on community standards and responsibilities, resident hall community standards, computer set-ups, money management, studying abroad, working with faculty advisors, course selection and major requirements, health and wellness, Wesleyan libraries, spiritual life, student activism and more.
Savannah Benis '16 of San Diego, Calif. came to Wesleyan for its superb film program and academic reputation. Her parents, Cherri and Rick, helped move Savannah (and her six suitcases) into her Clark Hall room on Arrival Day.
"It's going to be hard seeing her leave, but I'm really glad she chose Wesleyan," Rick Benis says. "All the alumni we've spoken to, and everyone else that knows about Wesleyan really loves it, and this is just the type of atmosphere and (student body) size that Savannah wanted."
Max Atkinson '16 of Dunnellon, Fla. received Arrival Day help from his parents Mia  and David. The family drove to Connecticut in three days and unloaded Max's belongings in his West College residence.
His grandfather, John W. Atkinson, was a member of the Class of 1947. "I'm sure if he were alive, he'd recommend Wesleyan to me," Max says.
More photos of Arrival Day are below and in this Wesleyan Facebook photo gallery.