NIH Supports Olson's Infectious Disease Therapy Research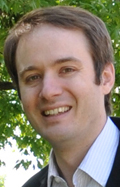 Rich Olson, assistant professor of molecular biology and biochemistry, received a grant worth $460,197 from the National Institutes of Health's National Institute of Allergy and Infectious Diseases on Aug. 8. The grant will support his research on "Mechanism of Cell Membrane Targeting by Vibrio cholera Cytolysin" through July 31, 2015.
Vibrio cholerae cytolysin (VCC) belongs to a family of secreted toxins produced by pathogenic bacteria that allows them to evade the immune system and to colonize the human body. Understanding how bacteria and their toxins target cells is important in developing therapies against human infectious diseases.