Art History's Aksamija Awarded I Tatti Fellowship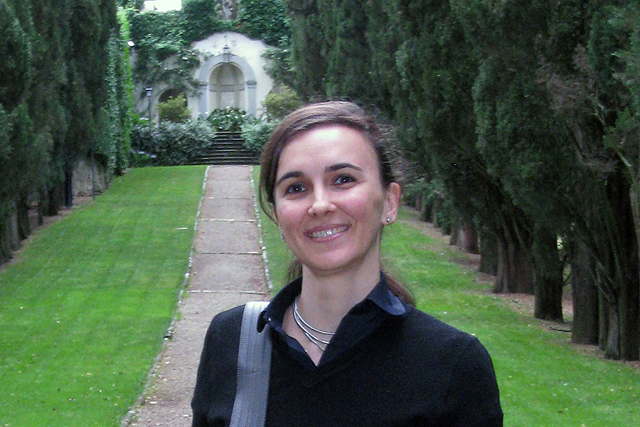 Nadja Aksamija, associate professor of art history, is spending her 2012-13 year abroad in Florence, Italy as a Robert Lehman Fellow at the Villa I Tatti, the Harvard University Center for Italian Renaissance Studies. She is one of 15 scholars to receive the fellowship.
I Tatti Fellows are selected by an international and interdisciplinary committee that welcomes applications from Italian Renaissance scholars from all nations.
While abroad, Aksamija is researching the Bolognese villa in the age of Cardinal Gabriele Paleotti.
"My project investigates the Bolognese villa culture at the end of the 16th century, a period marked by Catholic reform and huge cultural and intellectual shifts resulting from these changes, as well as from new scientific discoveries," she says.
Cardinal Paleotti was an ecclesiastical reformer in Bologna, who wrote an important treatise on art and was at the centre of a remarkable group of historians, poets and scientists.
"All of these people built and decorated their villas in new ways that reflected these shifting intellectual paradigms, which is what I am focusing on in my project."
This is Aksamija's third year working on the project, and while at I Tatti, she hopes to finish writing a book on the topic. In addition to having ample writing and research time in the Villa's Biblioteca Berenson, the fellows partake in stimulating intellectual offerings by talking with other fellows, going to lectures and concerts, and visiting sites in Florence related to their work. A stipend supports their fellowship.
"It is a remarkably productive environment because it is peaceful and everything is designed to support scholarly work," she says.
John Paoletti, the Kenan Professor of the Humanities, emeritus, and professor of art history, emeritus, was a distinguished visiting professor at Villa I Tatti in 2008. While abroad, he aided post-doctorial scholars in research, while completing a book on Michelangelo's David and beginning another on the Medici family's use of art and artistic patronage to solidify their role as de facto rulers Florence in the 15th century.
More information on the fellowship is online here.