Alumni Donate, Install 2 EnergyPods in Wesleyan Libraries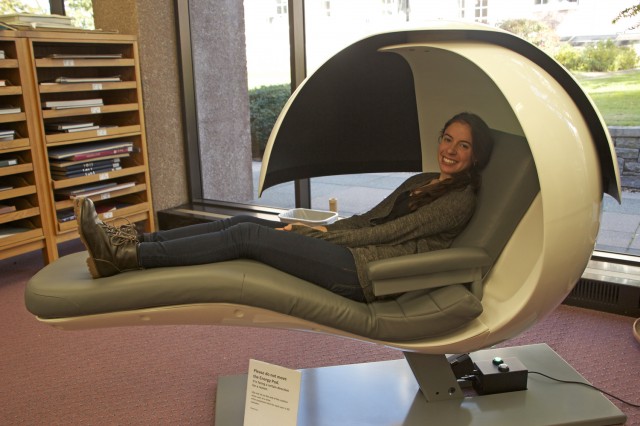 Need a nap?
Newly installed in both Olin and the Science Library are what appear to be lounge chairs enclosed by white spheres of plastic. These sleek, futuristic-looking machines are built for the sole purpose of squeezing in that midday, mid-study power nap—a recharging center for the mind. The EnergyPod, as it's called, is the brainchild of a company called MetroNaps and the very first of its kind. Donated by co-founders and Wesleyan alumni Christopher Lindholst '97 and Arshad Chowdury '98, these pods are designed to create the ideal energy enhancing environment.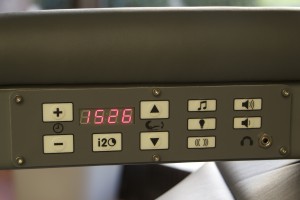 "There is a tremendous amount of research that supports the notion that a 20-minute midday nap can rejuvenate people. It improves memory, learning and mood and can boost productivity by up to 30 percent," Chowdury said in a BBC article prior to the EnergyPod's release.
Features include a reclined seat to take pressure off the lower back and legs, an adjustable visor that creates a shield of privacy from the outside, and soothing sounds and rhythms acting as relaxing white noise. A built-in 20 minute timer allows for nap goers to wake up with ease to a combination of slight vibrations and ambient lighting.
The workloads and busy schedules of college life can be just as exhaustion-inducing as those of MetroNaps' usual corporate customers. For Yekaterina Sapozhnina '16, who has spent a large portion of her past few days finishing up midterms, a few minutes of sheer relaxation after lunch on Oct. 18 was all she needed to make it through her afternoon classes.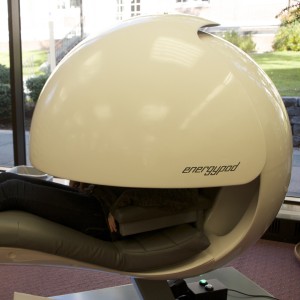 "After sitting in the chair and closing the pod, I fell asleep almost instantly. I really didn't even realize how badly I needed to rest until I sat up and felt much better," she said. "Everybody should at least try it out."
According to Nancy Collop in a 2010 U.S. News & World Report article, "Most people don't get enough sleep. And for those people, a nap will clearly help. The most important factor is duration, and it's well-accepted that short naps are good."
In the corporate world, this concept is catching on. MetroNaps' clientele includes household names such as Google, AOL/ Huffington Post and Zappos.