Student-Athletes Lend a Hand at Wesleyan's Neighborhood Preschool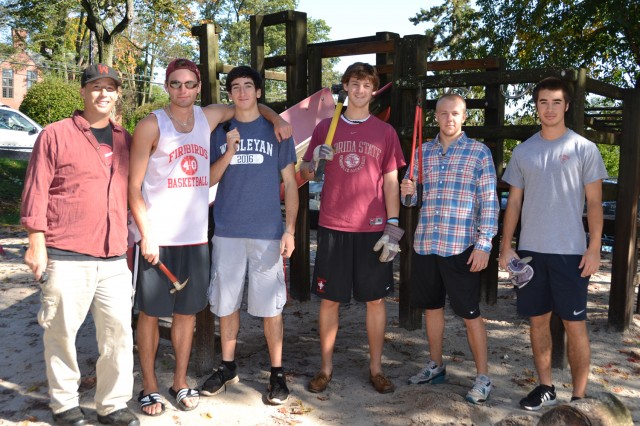 At Wesleyan's Neighborhood Preschool on Lawn Avenue, a 23-year-old wooden playscape with safety issues needed to come down.
Mark Woodworth '94, father of current NPS student Dylan, and head coach of Wesleyan's baseball team, signed up to help. On Oct. 5, Woodworth and his team set aside the baseball bat and took swings with sledge hammers and mallets, wielding tools, and lifting timbers between their Friday morning classes.
During playtime, the NPS students looked on in amazement, repeating to each other what their teacher, Karyn Hurlbert reminded them, "Stay out of the sandbox"—where the baseball team was dismantling their old climber.
The playscape will be replaced later this month after a successful fundraising effort chaired by Neighborhood Preschool (NPS) parents Lauren Caldwell, assistant professor of classical studies, and Makaela Kingsley '98, associate director of events for University Relations.
Built by Bears Playgrounds, it is to be named "The Teachers' Playscape," in honor of the dedicated individuals who have taught and nurtured community youngsters in the more than three decades that the school has been in operation. Additionally, Jen Alexander '88, Scott Kessell '88, and Matt Niland are involved in creating and building additional structures that will share the playground space.
"We have had great support from Wesleyan," notes Hurlbert, adding that the NPS location on High Street also is getting a new climber.
By noon the old jungle gym was down and the site cleared and ready for the arrival of the new centerpiece to NPS children's active play.
Additional photos of the playground destruction are below: (Photos by Cynthia Rockwell)