South Korea's Choi '13 is a Freeman Scholar, Humanities Journal Editor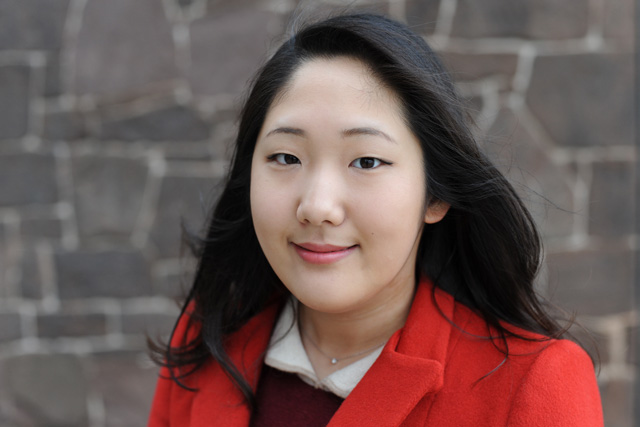 Q&As with outstanding students is an occasional feature of The Wesleyan Connection. This issue we speak with Claire Seo In Choi from the Class of 2013.
Q: Claire, what are you majoring in at Wesleyan, and why?
A: I'm majoring in art history at Wesleyan. I attended art high school before I came to Wes, and have been always interested in how socio-economic and cultural circumstances have shaped artworks, so I guess it was quite a natural choice for me. Besides my major credits, I explored many different disciplines; I learned French and German, and took various courses from the College of Letters, Philosophy and Studio Art departments.
Q: Coming to Wesleyan from South Korea, what were the biggest changes you encountered?
A: The education system was one of the biggest changes I encountered. My high school curriculum was very art-centric and did not have room for students to design their own curriculums. On the other hand, Wesleyan encourages students to take the full advantage of liberal arts education and explore different courses outside one's major. Language barrier and cultural differences were also challenging changes, but I think the people I've met at Wesleyan have helped me a lot to transit into a new environment.
Q: You are involved with PYXIS, a new student-run online humanities journal. What is your position in the project?
A: Earlier this year, my friends and I co-founded PYXIS. PYXIS is a new online and print project that aims to share and celebrate student academic writing in the humanities at Wesleyan. We publish peer-edited papers and thought-provoking articles, both online and in print. By doing this, we hope to establish a dialogue across the humanities on issues surrounding a common theme, extending the conversations in the classroom to the Internet. We are currently in the paper selection and editing process for our first online issue about a theme, "Bodies." I am involved in sort of everything about this project — from organizational matters to maintaining our social media presence. It has been fun and very rewarding so far. We hope that not only current Wes students, but also alumni who are interested in the humanities, will visit our website and join the conversation!
Q: As a Wesleyan Freeman Asian Scholar, what role do you play in the Wesleyan community?
A: I am very grateful to Mr. Freeman and his family, who offered me a life-changing opportunity to attend Wesleyan University. I think Freeman Asian Scholars are a very unique and warm-hearted group of students, and we have many great memories together. It is such a welcoming community that I am proud to be part of it. As a member of the Freeman Asian Scholar Association, I helped fellow class of 2013 scholars to organize a successful Asian Late Night fundraising event during my freshman year. Also, we had our last Freeman Dinner, where class of 2013 Freeman Asian Scholars worked together to produce a skit expressing our gratitude towards Wesleyan and the foundation.
Q: Over the past few summers you interned in New York City for various companies, through which you met Wesleyan alumni. What were your experiences like? Whom did you meet?
A: I interned in New York for the past three summers, and have to admit that I am quite attached to the city. Wes alums I met in the city were all very willing to offer help and career advice, which I appreciated a lot. I interned for Lower Manhattan Cultural Council during my freshmen and sophomore summers, where I helped manage the day-to-day activities of Building 110 (artist studio program) and run New York City- and State-funded grant programs. Wesleyan alumnus Sam Miller '75 is the president of the organization. He is also a co-founder of Institute for Curatorial Practice in Performance with another amazing Wes alumna and our very own Center for the Arts Director Pamela Tatge. They gave me an opportunity to audit inaugural ICPP year's colloquiums during my sophomore summer. Over the most recent summer, my long interest in communications and the Internet landed me social media and digital strategy internship positions at advertising agencies. Meanwhile, I volunteered for an annual NYC performance art festival, Art In Odd Places, where I could use my skills and knowledge about social media to help the festival establish an active web presence.
Q: What are your other hobbies and interests?
A: I have taken Korean Drumming at Wesleyan for the past three years — it is very energetic and dynamic music. I want to hone my drumming skills further. Also I like to test out different recipes, and have a small nice dinner with close friends. I try to go to more performances at the CFA, read something not related to classes, and watch movies.
Q: Do you have any post-Wesleyan plans?
A: I am fascinated by how new technology has shaped our daily lives and communication. I hope to work in the branding and strategy side of digital advertising or/and Internet industries, and keep involved with the art world after I graduate.
#THISISWHY