Muellers '12, Khan '12 Help Bangladesh Village Access Clean Water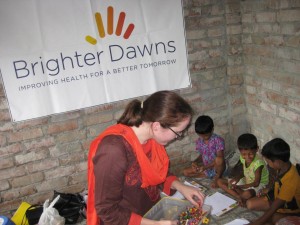 Kimberly Muellers '12, communications director for the nonprofit Brighter Dawns, spent part of her post-graduation summer in Bangladesh, helping provide a village with access to clean water.
The Boston Globe highlighted the work of Massachusetts native Muellers in a recent article titled "Westwood Woman Helping in Bangladesh."
"There are so many preventable diseases that can be solved so easily just by having clean water and good hygiene," Muellers told The Globe. "Our main focus is on sanitation issues."
Muellers was joined this summer in Bangladesh by Tasmiha Khan '12, Brighter Dawns CEO, as well as Fahim Zaman, Brighter Dawns director of media and strategy, and a Harvard graduate. They were there to assess a pilot project and work with a local partner, the World Peace and Cultural Foundation. Brighter Dawns has chapters at Wesleyan and Harvard universities and Trinity College.
Muellers stresses the importance of involving young people in international development projects like Brighter Dawns, which provide lifesaving services. Additionally, the youth from the more privileged culture receive an important lesson in empowerment, as they use their energy to effect real and positive change in the world.
Are you a Wesleyan alumnus? For more alumni stories, photo albums, videos, features and more, visit Wesconnect, the website for Wesleyan alumni.