Forney '89 Writes Graphic Novel on Bipolar Disorder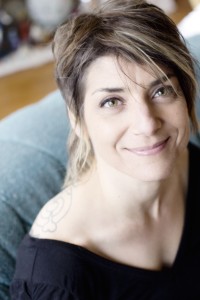 (Story contributed by Laignee Barron '13)
Ellen Forney '89 is the author of a new graphic novel Marbles: Mania, Depression, Michelangelo and Me (Gotham Books), which follows the artist's diagnosis with bipolar disorder shortly before her 30th birthday. In this intimate confession, Forney delves into her struggles with being accepted into "Club van Gogh." "This unflinchingly honest memoir" (Kirkus Reviews) details Forney's fears that her disorder could curtail her creativity and livelihood.
Beginning with the manic state that led to her diagnosis, Forney explores what it means to be a "crazy artist." At first disbelieves her psychiatrist, Forney is filled with the high of mania, planning parties and keeping busy with cartooning work in an unnervingly productive binge. ("I don't want balance, I want brilliance," she exclaims.) But the manic cycle eventually breaks, and Forney continues chronicling her experience as she descends into a violent episode of depression. She eventually becomes convinced of her diagnosis and decides to enter the endless experimentation to find the right dosage or cocktail of medication.
The novel alternates between Forney's bold cartoonish comics, realist illustrations, and photo-like representations of her sketchpad. At once heartbreaking and unabashedly funny, Forney's novel was written with the intention to share her journey with others facing similar circumstances. This new novel closely illuminates the struggles of a bipolar woman, while provoking questions of what mental disorders means to artists.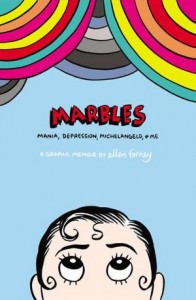 In her Entertainment Weekly review, Melissa Maerz writes that "the book is surprisingly fun to read, bursting with manic adventures (illicit hookups! costume parties! spontaneous tattoos!), cautionary tales (one emotional crash leaves her in a forest, hugging a tree), and wild drawings that perfectly illustrate her mood swings. By the time [Forney] finds the right treatment, Marbles isn't just a great story; it's proof that artists don't have to be tortured to be brilliant."
Forney is an Eisner-nominated cartoonist living in Seattle, Washington. She has created two other comic books, I Love Led Zeppelin and Monkey Food. She also collaborated with Sherman Alexie on the National Book Award-winning novel, The Absolutely True Diary of a Part-Time Indian. She teaches comics at the Cornish College of the Arts.
Visit the Ellen Forney website.
Are you a Wesleyan alumnus? For more alumni stories, photo albums, videos, features and more, visit Wesconnect, the website for Wesleyan alumni.