Braxton Honored by New Music USA for Contribution to Contemporary Music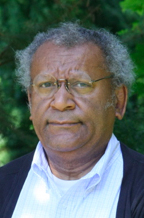 Anthony Braxton, the John Spencer Camp Professor of Music, received a New Music USA award in the Letters of Distinction category for 2013. This honor has been awarded annually since 1964 and recognizes those who have made a significant contribution to the field of contemporary American music.
Braxton is the founder of The Tri-Centric Foundation, a not-for-profit organization that cultivates and inspires the next generation of creative artists to pursue their own visions with the kind of idealism and integrity Braxton has demonstrated throughout his long and distinguished career. The foundation also documents, archives, preserves and disseminates Braxton's scores, writings, performances and recordings and advocates for a broader audience, appreciation, funding and support base for Braxton's work.
Other 2013 Letters of Distinction recipients include John Kander, John Luther Adams, William Kraft and Pacific Serenades. Previous recipients include Leonard Bernstein, Joan Tower, Dizzy Gillespie, Michael Tilson Thomas, Virgil Thomson, the Kronos Quartet, Bang on a Can, Dawn Upshaw and John Cage, who was affiliated with Wesleyan from the 1950s until his death in 1992.