Student-Athletes Collect Gifts for Students at Local Elementary School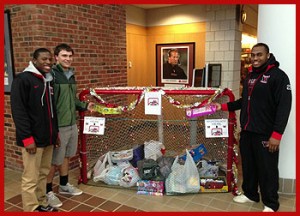 For the second year in a row, the Wesleyan Student Athlete Advisory Committee (SAAC) sponsored a gift drive known as "Stuff the Nets" on Dec. 8. During this time, hockey goals were positioned around the Freeman Athletic Center and athletic-contest goers donated unwrapped new toys for students at the MacDonough School, one of the eight elementary schools in Middletown.
The result of the drive was more than 100 items, which were then wrapped by a combination of Wesleyan student-athletes, coaches and staff members as well as personnel from the MacDonough School. The gifts will be distributed to students at the school for the holidays.
"MacDonough School is so fortunate to be a part of the Wesleyan University community," said Jon Romeo, the school's principal. "Events like the 'Stuff the Nets' gift drive demonstrate the deep commitment of Wesleyan student-athletes to helping those in need. The event will help to make the holidays so much brighter for our students and their families."
View more photos on the Wesleyan Athletics page.