Music, Dancing, Fireworks at Middnight on Main 2013 Celebration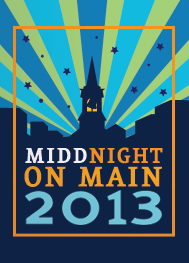 Ring in the new year with a night of entertainment, dancing, music, laughing, fireworks and crafts in downtown Middletown.
Starting at 3 p.m. Dec. 31, the City of Middletown will host its second Middnight on Main 2013, an alcohol-free celebration with unique activities for revelers of all ages, centered in the city's historic downtown. More than 10,000 people attended the 2012 event.
Since Wesleyan is co-sponsoring the event, Wesleyan students, employees and their families are encouraged to attend.
More than 100 events are packed into bank lobbies, performance halls, storefronts, churches and galleries, spanning four blocks in Middletown.
Activities include a breakdance workshop, an Irish step dance performance, face painting, a magician, a youth poetry slam, juggling, comedy, hula hooping, salsa dancing, a Kung Fu demonstration, several film screenings, a bug collection viewing, a speed chess tournament and more!
Middnight goers also can attend performances by more than 40 musicians and musical groups including Rani Arbo and Daisy Mayhem, The Grand Slambovians, the Cross Strreet AME Zion Unity Choir, Caribbean Splash, The Ear Cave and Wesleyan's Noah Baerman, Dar Williams '89 and Steve Roslonek '93 from SteveSongs.
At 6 p.m., watch a rooftop firework show, and at 11:30 p.m., gather on the lawn of the Church of the Holy Trinity for a performance of Taiko drums and the midnight ringing of the bells to usher in the new year.
View the full schedule of events online here.
A button serves as a ticket to all Middnight events. The price is $20 for adults, $10 for children ages 2-12, and free for children under the age of 2. Buy a button online here. More than 200 volunteers are needed to make Middnight on Main a success. Sign up for a three-hour shift and earn a free button.
Watch a video of the 2012 Middnight on Main below:
[youtube width="640″ height="420″]http://www.youtube.com/watch?v=u1ZZHdHA5gs&feature=youtu.be[/youtube]