Winston Translates German Author's Starlight Terrace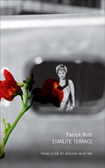 Krishna Winston, the Marcus L. Taft Professor of German Language and Literature, is the translator of Patrick Roth's Starlight Terrace, published by Seagull Books in 2012.
In a rundown Los Angeles apartment building—the titular Starlite Terrace—Roth unfurls the tragic linked stories of Rex, Moss, Gary and June, four neighbors, in a sort of burlesque of the Hollywood modern. In each of their singular collisions with fame, Roth's dark prose presages a universal and mythical fate of desperation.
In "The Man at Noah's Window," Rex shares the story of his father, a supposed hand double for Gary Cooper in High Noon. In "Eclipse of the Sun," Moss, who lives in fear of the next holocaust, awaits a visit from the long-lost daughter he has tracked down. In "Rider on the Storm," Gary, a rock drummer and born-again Christian, who "almost played" on the Turtles' 60s-hit "Happy Together," strives to find escape from his personal guilt. And in "The Woman in the Sea of Stars," June, a former Hollywood studio secretary whose husband once cheated on her with Marilyn Monroe, makes the best of a disconnected life until she emerges reborn through ashes strewn in the illuminated swimming pool of the Starlite Terrace.