Desai '03 to Release New Collection of Short Stories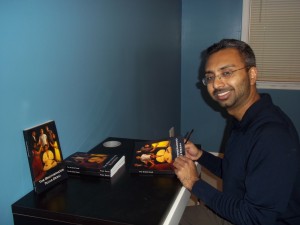 Tejas Desai '03, author of The Brotherhood and creator of The New Wei Collective, will release Dhan's Debut and Other Stories, his first collection of short stories, this fall.
Desai's previous novel, The Brotherhood, the first book in The Brotherhood Trilogy, is a noir thriller that deals with contemporary social issues facing the Indian-American population.While at Wesleyan he wrote a collection of short stories with the same title and similar themes. Reworked over the years into its current version, the novel expresses Desai's interest in "the different ideologies inherent in Hinduism and Buddhism, differences of personality and outlook, the relationship between individual and community," topics that have fascinated him since childhood. The Evil Parrot Book Club ("book reviews by an average bloke") says that the novel "keeps you guessing all the way to the nerve-wracking conclusion."
Dhan's Debut is part of a different series, The Human Tragedy, which Desai plans to alternate with The Brotherhood Trilogy. The short story collection deals with darker aspects of contemporary American life that most fiction today won't delve into: conflicts of class, race, and extreme psychologies. "Most collections today have cute themes, boring characters, are humorless and devoid of true social or psychological significance," Desai says. "I want to revitalize the short story collection with Dhan's Debut. Eventually I hope to create a panoramic portrait of our diverse society with The Human Tragedy, employing a wide range of styles, characters, and situations."
Desai's interest in self-publishing has led him to create his own publishing company and literary movement, The New Wei.
"Publishers, both major and small, are only interested in 'safe' writers they can fit into an already defined market.  I want to be a dynamic writer who creates his own aesthetic and his own market, and I want to promote authors who have the courage to do the same."  Desai believes that self-publishing, which already accounts for the majority of books published today, will eventually evolve into author collectives, and he wants to create the first.
Desai offers this advice to struggling authors: "Keep writing.  Write every day.  Rewrite and revise constantly.  Take breaks.  Writing is like exercising a muscle.  One day you will just feel it. And if you feel you have what it takes to join my collective and movement, contact me."
For more information see:
http://www.amazon.com/Brotherhood-Trilogy-1/dp/0988351927/ref=sr_1_1?s=books&ie=UTF8&qid=1371233438&sr=1-1
http://wesconnect.wesleyan.edu/s/1318/index_social.aspx?&gid=1&pgid=2457&crid=0
http://evilparrotbookclub.wordpress.com/2013/05/17/the-brotherhood-by-tejas-desai/
http://vaultofbooks.com/author-interviews/conversation-tejas-desai