Harris '98 Studies Multinational Trade Route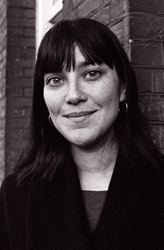 In her new book Geographical Diversions  (The University of Georgia Press), Tina Harris '98 employs cultural anthropology, human geography, and material culture to explore the social and economic transformations that take place along one trade route that extends through China, Nepal, Tibet, and India. She makes connections between the seemingly mundane motions of daily life and more abstract levels of global change by focusing on two generations of traders and how they create "geographies of trade that work against state ideas of what trade routes should look like."  She observes the tensions between the apparent fixity of invisible national boundaries and the mobility of the local individuals. The book as a whole challenges and confronts established theories on an innovative smaller-scale perspective.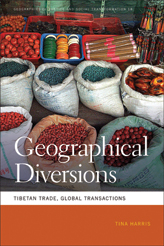 Harris considers what allows the traders along one trade route to make their own places through their markets and their way of life. She focuses on the effects of new infrastructure due to the economic rise of China and India on places that are rarely covered by international media. Alongside her detailed written analysis of the trade route, Harris provides numerous photographs to give readers a more visual sense of the world they are reading about. These pictures include a mule caravan loaded with Tibetan wool near Pharia, circa 1930s; a sign on National Highway 31A on the road to Gangtok, and the reopening ceremony that took place in July of 2006.