Schwarcz Explores Contemporary China through New Book of Poetry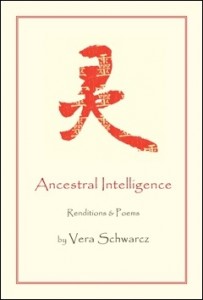 Vera Schwarcz, the Mansfield Freeman Professor of East Asian Studies, professor of history, is the author of Ancestral Intelligence, published by Antrim House Books in 2013.
In Ancestral Intelligence, Schwarcz depicts the cultural landscape of contemporary China by creating "renditions" of poems by a mid-20th century dissident poet, Chen Yinke, and by adding a group of her own poems in harmony with Chen Yinke's. Like his, her poems show a degradation of culture and humanity, in this case through comparison of classic and modern Chinese logographs.
In the tragic yet inspiring story of Chen Yinke, Schwarcz finds her own powerful way of articulating the horrors of political oppression, and also the smaller but no less difficult personal afflictions of growing old, seeing loved ones suffer. The book's front cover design by Andy Youlieguo Zhou depicts the degradation of one's culture and language.
Schwarcz was born and raised in Cluj, Romania, where she began her explorations of poetry in several languages. Her mother tongues include Hungarian and Romanian, with Yiddish, German, Hebrew, Russian and French added along the way. After emigrating to the United States in 1962, she pursued degrees in East Asian studies and history at Vassar, Yale and Stanford. A member of the first group of exchange scholars to be sent to China in the spring of 1979, she has returned to Beijing repeatedly during the past three decades. All along, her corpus of scholarly writing has been accompanied by the publication of poems in several languages in the United States, Europe and Asia. The daughter of Holocaust survivors, Schwarcz has made the quest for remembrance a central theme in all her works. Her writing has been nominated for the National Jewish Book Award and has been accorded several major grants, including a Guggenheim Fellowship.
Read Ancestral Intelligence poem samples online here.