Wesleyan Welcomes 753 Students to the Class of 2017 on Arrival Day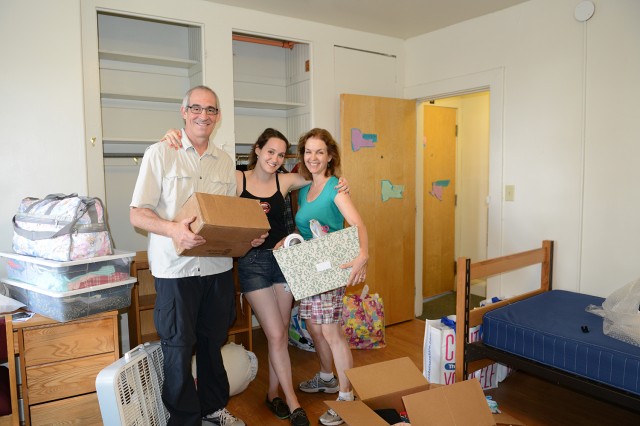 Watch this video of Arrival Day:
[youtube width="640″ height="420″]http://youtu.be/RoY0k4kisv8[/youtube]
(Story by Olivia Drake and Cynthia Rockwell)
After touring 12 colleges and universities, Hannah Wolfe Eisner '17 stopped looking after visiting Wesleyan.
"I fell in love with Wesleyan on a campus tour," Eisner said. "Wesleyan students are passionate, but they also love to share their passions with each other and interact and share ideas with one another, and that's the educational philosophy that I was looking for in a school."
On Aug. 28, Eisner, who hails from New York City, moved a car-load of belongings into her new home-away-from-home at the 200 Church Street student residences. Eisner was one of 753 new students welcomed to campus on new student Arrival Day. Additionally, Wesleyan is welcoming 59 transfer matriculants for the fall semester, bringing the total number of new students enrolling this fall to 812.
She brought boxes of clothes, jewelry racks, a lap top, drying rack, ironing board, mirror, fan and "too many containers." Her parents, John Eisner and Jennifer Dorr White, helped unpack and install hooks and mirrors on the wall.
"I love this room, " she said. "I can't wait to meet my roommate!"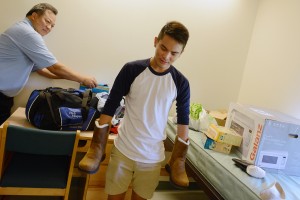 At 9:45 a.m. Hawaii resident Rick Manayan '17 said "aloha" to his new student residence in Clark Hall. After spending 13 hours in a plane and three hours in a car, he welcomed his new surroundings, even though space was tight.
"The first thing we need to do is knock down a wall and make this section bigger," he joked to his parents, Mae and Rick.
Manayan learned about Wesleyan while attending Punahou School in Hawaii.
"I wanted to go to a small liberal arts college with people who liked things I like … dance, theater and English, and I wanted a school that offered leadership opportunities. So I chose Wesleyan," he said.
Immediately after moving in, students took part in New Student Orientation activities including a residence hall welcome and a meet-and-greet gathering with Wesleyan President Michael Roth.
The Class of 2017 is 54 percent women and 46 percent men. Twenty-two percent of this class are New England residents, with 34 percent from the nearby mid-Atlantic states. The Midwest and South both sent Wesleyan 5 percent of the class of 2017; 21 percent call the West their home, and 13 percent arrived from outside the United States.
Eighteen percent have Wesleyan relatives, and seven percent are children of Wesleyan alumni. Thirteen percent of this Wesleyan class of 2017 are the first generation in their family to attend a four-year college. Forty-two percent of the class receives financial aid and 37 percent receive grant aid.
The class boasts strong academic high school records, with 83 percent taking a mathematics program that included calculus; a science program with biology, chemistry and physics, and four years of a foreign language. Of the 37 percent of the class reporting rank, 68 percent were in the top 10 percent of their class; 87 percent were in the top 20 percent.
More photos of Arrival Day are below. View the full Arrival Day photo gallery online here.