Physical Plant Staff Spearheading Summer Campus Renovations, Projects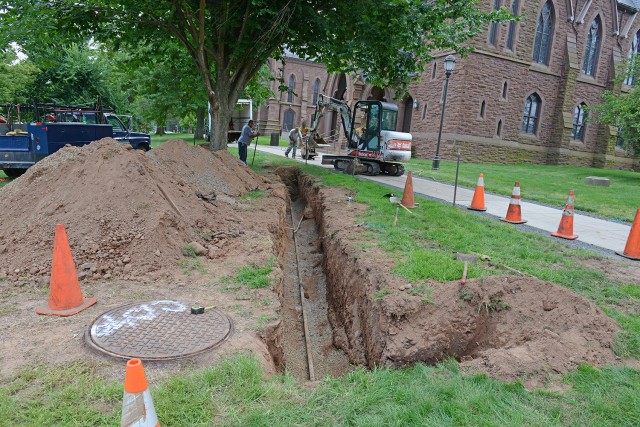 While students are away, there's no time for play, if you're on the Physical Plant – Facilities staff.
"The day students move out of their campus residences, we get to work," said Roseann Sillasen, associate director and project manager for Physical Plant – Facilities. "We get as many projects done as possible while students and faculty are away for the summer."
Summer projects began early with replacement of the 22-year-old Andersen track at the Freeman Athletic Center. The project included an installation of a new synthetic turf field for inclement-weather games and practice field, taking pressure off the grass practice fields and Jackson Field, the principal playing field for men's and women's soccer as well as men's lacrosse.  The track is expected to be completed on Sept. 3.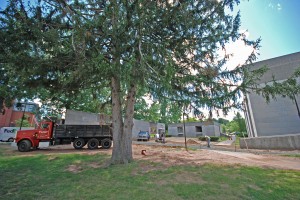 On May 28 work began on a mechanical system replacement inside the Center for the Arts Rehearsal Hall. This project included the consolidation of mechanical rooms, installation of a heat pump and exterior dry cooler, perimeter landscaping, tree relocation within the CFA, a new acoustic entry door to Rehearsal Hall 013 and new acoustic doors in the corridor that separates Rehearsal Hall from Crowell Concert Hall. Also on May 28, work began on the Davison Art Center's Alsop House. The veranda received new wood decking, framing and painting. The veranda's metal pan roof is in the process of being replaced.
On June 3, crews began renovations on the Religion Department and the Center for the Humanities. Both buildings received wall repairs, fresh paint, lights and carpet. The Center for the Americas received a porch replacement, window restoration, roof repairs and replacement of the ADA-approved entrance with composite decking.
On July 10, work commenced on the interior dome painting at the Van Vleck Observatory and a bathroom and shower partition replacement in Foss Hill 1-7 residences.
The wood-framed student homes received a new network of thermostats. These new unit allow Physical Plant to remotely monitor and set parameters on the heating system.
"The primary reason for installing them was to monitor temperatures when students leave for break in December," explained Michael Conte, assistant director of mechanical trades.  "These thermostats will -mail, text and call staff when limit thresholds are met; for example, it tells us if the house is cold before the pipes freeze." Because they work off the Wesleyan wi-fi network, they also will alert Information Technology Services of a network failure.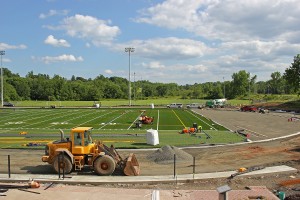 On July 15, crews began installing a 676 kw cogeneration system in the Freeman Athletic Center's pool mechanical room. The system includes an engine, generator, enclosure, 50-foot stack, heat recovery boiler, catalytic emission controls, a water fluid cooler and urea tank for emission control.
Other summer projects included a third floor bathroom renovations at Fisk Hall; new audio-visual capabilities in Fisk and Russell House; CFA complex tunnel waterproofing; masonry repairs and south porch roof replacement at Eclectic; entryway sandblasting at Butterfield Residence Hall; brownstone repair and landscaping at the Center for the Humanities; lighting improvements in Exley Science Center, Olin Library, Fisk Hall and several parking lots; installation of a new blue light security phone; and modernizing the Olin Library main stack elevator. This includes new digital controller, hallway and car control panels and full ADA upgrades.
In addition, Physical Plant's Utilities Department started a series of steamline replacements this summer, starting with the Center for the Arts and an area between Foss Hill and Fayerweather. Steamline replacement will be ongoing through 2015.
Learn more about Wesleyan's Major Maintenance projects at this link.