"Buffy to the Bard" Exhibit Offers Retrospective Look at Whedon's Career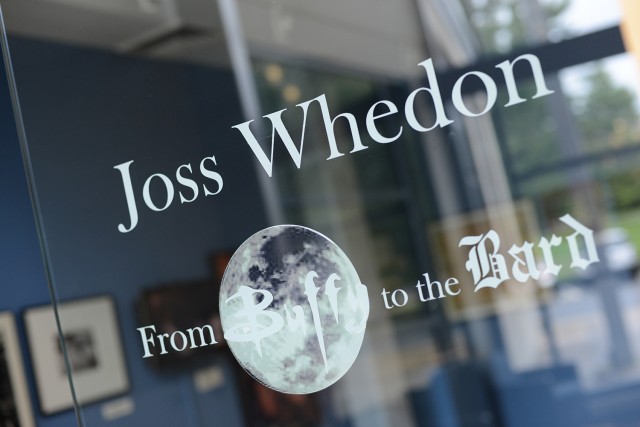 Whether you're a serious student of Joss Whedon's oeuvre or your inner geek has just really, really wanted to see Buffy's scythe close up, an exhibit on view in the Cinema Archives' Nicita Gallery should satisfy every fan of the prolific '87 Wes alumnus.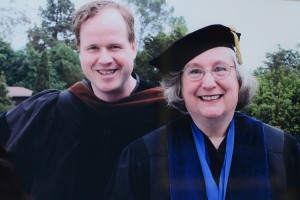 "Joss Whedon: From Buffy to the Bard" is an intimate and charming retrospective of Whedon's career, starting with a picture of Whedon shooting a student film at Wesleyan, continuing through souvenirs of "Buffy the Vampire Slayer" and winding up with a poster from his latest film, "Much Ado About Nothing," which he previewed during Reunion & Commencement weekend for a wildly enthusiastic crowd of alumni and students.
"It was an awful lot of fun to put together," said Curator Andrea McCarty, who not only created the exhibit but also designed the special Lucite cases that hold such Whedonalia as script notes and objéts from Whedon's blockbuster "The Avengers," based on the Marvel comic. "Joss basically went into his garage – and gave us all this stuff."
Marvel and Lions Gate Studio also were generous in donating movie ephemera, McCarty said.
The exhibit will be up through December, honoring the prominent film studies alumnus (whose 2013 Commencement speech has now garnered more than a quarter million views on YouTube) as Wesleyan launches its new College of Film and the Moving Image. The college brings the Film Studies Department, the Center for Film Studies, the Cinema Archives and the Wesleyan Film Series under a single umbrella.
The exhibit will be open from noon to 4 p.m. on Fridays and Saturdays, and also by appointment, allowing visitors to ponder notes and sketches for "Dr. Horrible's Sing-Along Blog;" film and TV posters; and props and artifacts from various Whedon productions.
For more information see the Nicita Gallery's website.