Wesleyan Families, Local Community Invited to Middletown Day Sept. 21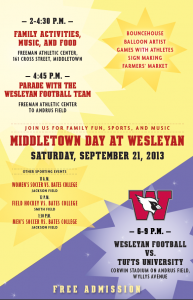 Wesleyan's friends and neighbors in the community are invited (along with students, staff and faculty) to enjoy Middletown Day on campus Sept. 21. A menu of family activities is planned for the afternoon, leading up to the first night football game in the NESCAC, as the Cardinals face the Tufts University Jumbos in the season's first contest.
From 2:30 until about 4:45 p.m., Freeman Athletic Center will be the scene of games, live music, poster-making and balloon art, a bouncehouse for small visitors and various farmers' market vendors. Free popcorn and beverages will be offered as well.
At afternoon's end, one and all are invited to join a parade led by Wesleyan's football team to Corwin Stadium at Andrus Field. Three Middletown residents are on this year's roster; it's a great chance for the community to cheer on homegrown talent.
Kickoff is at 6 p.m. This edition of "Saturday Night Lights" is the first football game played at night in the New England Small College Athletic Conference. Temporary lights are being installed on Andrus Field, where spectators can arrive early to snag good seats and enjoy "tailgate" snacks sold by student teams and groups. Read more about the Sept. 21 game in this past Wesleyan Connection article.