Indie Film By Schaefer '94 To Make Limited Theatrical Release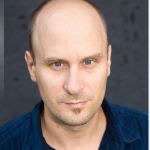 My Last Day Without You, an indie romance film written and directed by Stefan Schaefer '94, will be making a limited theatrical release through AMC Theaters on Oct. 4. The movie centers on a German business executive (Ken Duken) who falls in love with a Brooklyn singer-songwriter (Nicole Beharie) after a chance encounter on a short business trip to New York City.
After winning a Black Reel Award for Best Independent Film and a Certificate of Excellence from the Brooklyn International Film Festival for Best Producer, My Last Day Without You will open in Atlanta, Seattle, Washington, DC, Chicago, and New Orleans. Schaefer has over 15 feature film credits to his name as well as being the co-founder of the production company Cicala Filmworks. In addition, he is the writer and director of the upcoming documentary Even Though the Whole World Is Burning, on poet laureate and two-time Pulitzer winner W.S. Merwin.