Watch Live Stream of Social Good Summit Sept. 22-24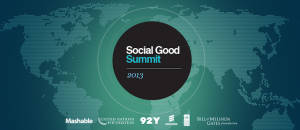 President Michael S. Roth will join 54 other speakers, including former Vice President Al Gore, at the Social Good Summit Sept. 22-24 at the 92nd St. Y in New York.
The speakers will address diverse topics on the theme of "How to Change the World," seeking innovative solutions to global problems. To view and listen to a live stream of the event, go to: new.livestream.com/mashable. You may need to select the "join" link.
The summit live stream will also be available in the Usdan University Center video lounge.
The summit will form the basis of a new MOOC (massive open online course) to be offered by Wesleyan on the Coursera platform launching Jan. 20.
Each class will begin with a video segment from the summit and will be facilitated by Roth, using input from a variety of others, including Wesleyan professors. The classes will explore solutions to pressing issues ranging from global warming to urban poverty. Registration for the course is now open on the Coursera website.
Read more about the Social Good Summit in this past Wesleyan Connection article.