Rosenthal to Direct Allbritton Center 2014-17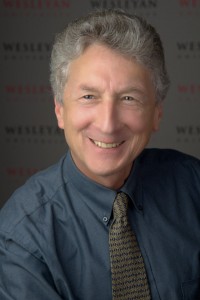 Rob Rosenthal, the John E. Andrus Professor of Sociology, will serve as Director of the Allbritton Center for the Study of Public Life for a three-year term, beginning July 2014.
Rosenthal has a distinguished history of initiating programs to integrate public life into the Wesleyan curriculum: He was the founding director of the Center for Service Learning, founding co-director the Center for Community Partnerships, and as Provost he instituted the Patricelli Center for Social Entrepreneurship and developed new programming within the Allbritton Center including the year-long "music in public life" initiative.
Rosenthal served as provost from 2010-2013 and oversaw Wesleyan's reaccreditation process. Immediately before becoming provost, he served as vice-chair then chair of the faculty. He has served as chair of the Sociology Department and been elected to the Advisory Committee and the Educational Policy Committee. His numerous awards include Wesleyan's Binswanger Prize for Excellence in Teaching; the "Leadership in Community Service" award from the Connecticut Department of Higher Education; a Fulbright teaching grant to teach at Aristotle University, Thessaloniki, Greece; the Distinguished Service award from The Connection; and he was co-winner of the Association of Humanist Sociology's 1994-1995 book award for Homeless in Paradise.
In Rosenthal's most recent project, he collected and co-edited musician and activist Pete Seeger's private writings; the book, Pete Seeger: In His Own Words, was published in 2012 to much accolade. Rosenthal is also author of Playing for Change: Music in the Service of Social Movements (with Dick Flacks); Homeless in Paradise: A Map of the Terrain; and more than 20 articles and essays.  He is also a producer, musician, and musical researcher on three recordings: Seattle 1919, Reagonomics Blues, and We Won't Move: Songs of the Tenants' Movement.