Farias Hired as Wesleyan's Chief Diversity Officer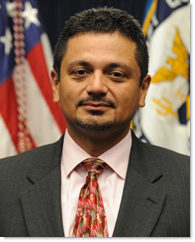 Antonio Farias, currently Chief Diversity Officer at the U.S. Coast Guard Academy, will become Wesleyan's Chief Diversity Officer on Nov. 4.
At the Coast Guard Academy since 2005, he chaired the Inclusive Excellence Council and worked with the highest level of leadership in the Coast Guard, developing a metrics-driven inclusion and diversity strategy for the Academy that eventually shaped strategy for the larger 47,000-member organization.
He has developed retention programs for students of color, first-generation students, women, LGBT and students of various faith/non-faith backgrounds; implemented pre-orientation programs for first-generation students and students of color; and conducted inclusion and diversity workshops throughout the Academy, including for the first-year orientation program. He also has worked closely with the admission office on recruitment of students of color and first-generation students through long-range K-12 STEM project-based learning programs.
Farias' wide-ranging work there also has included collaborating with the dean of faculty in recruitment and retention of faculty of color and women in STEM fields. He has supervised three senior professionals and was responsible for planning a 15-member inclusive excellence institutional infrastructure and championing the creation of a grants office dedicated to funding STEM and diversity projects.
Prior to his time at the Coast Guard Academy, Farias was associate director of the McNair Scholars Program at Mercy College in New York, responsible for guiding and mentoring students in their academic work on the road to eventual doctorate programs. He also served as an instructor in the Africana and Puerto Rican/Latino Studies Department at Hunter College in New York and as Higher Education Opportunity Program Counselor at Colgate University.
"Antonio brings impressive experience in contributing to the advancement of inclusion, equity and diversity in an academic setting," said Wesleyan President Michael Roth in an all-campus e-mail. "Please join me in welcoming Antonio to Wesleyan!"