Smith '14 Creates Online Community for Amputees, Families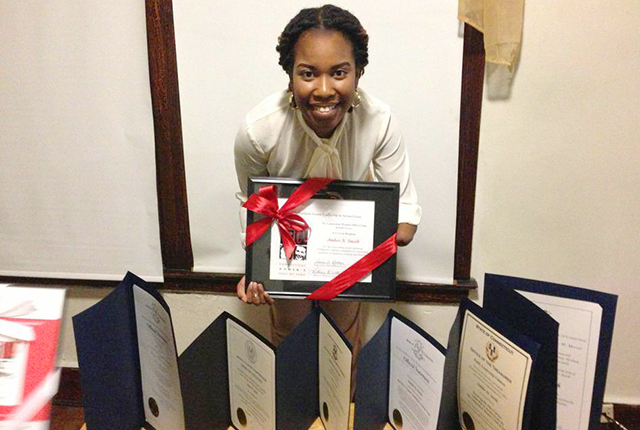 Amber Smith '14 understands the importance of having connections with others who understand the hardships faced as an amputee. Smith, an African American studies major, was born with an upper extremity amputation of her left forearm.
On Nov. 6, Smith received a 2013 Ella T. Grasso Leadership in Action Grant from the Connecticut Women's Hall of Fame. The award will serve as seed money for starting up her social enterprise, "I AMputee," an online community designed for amputees and their families to connect with those of similar circumstances in an effort to create positive, reciprocal relationships grounded in common experience. I AMputee's slogan is "I AM Human. I AM Inspired. I AMputee."
"Because of my life experiences, I understand that while there are some amazing organizations geared toward amputee support, there isn't quite something out there like what I want to create. I'm interested in starting an accessible community that will inspire a movement; a new way of thinking about amputees," she said.
Smith's parents didn't know of her forearm amputation until she was born. They were connected with another couple in a similar situation through a penpal program, among a variety of other resources, through the Shriners Hospital.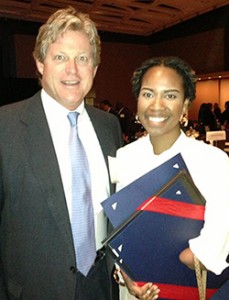 Smith hopes that I AMputee will evolve into an internet trading and social network where amputees across the world can pair together to purchase and/or exchange gloves and shoes, split the cost in half, and give new meaning to an unattended item.
In the grant application, Smith included a detailed timeline and budget. In receiving this grant, she's gained much needed financial support and created the structure needed to start making progress and maintain momentum in building her project for the upcoming year.
During the Nov. 6 ceremony, the Connecticut Women's Hall of Fame honored Smith for "her outstanding project proposal and her commitment to providing assistant to amputees at home and abroad."
"I want I AMputee to help us redefine our collective and individual identities," she said. "I also believe it will help restore pride and humanity to a group of people who are often labeled in ways that strips them of such."
Learn more about I AMputee on this Facebook site.