Pulitzer Prize-Winning Playwright Hudes Joins Faculty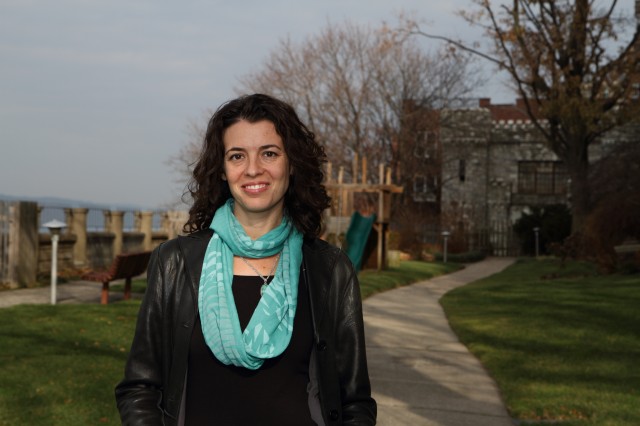 Quiara Alegría Hudes, a Pulitzer Prize recipient, will be the new Shapiro Distinguished Professor of Writing and Theater for three years beginning in the fall of 2014. The appointment marks a return to campus for Hudes, who taught as a visiting playwright in 2012.
Hudes's most recent publication is The Elliot Cycle, three standalone plays written over an eight-year period. Each play uses a different kind of music – Bach, Coltrane, and Puerto Rican folk music¬ ¬– to trace the coming of age of a haunted young man from Puerto Rico. Elliot, A Soldier's Fugue, the first play, was a finalist for the Pulitzer Prize in 2007. Water by the Spoonful won the 2012 Pulitzer Prize for Drama, and The Happiest Song Plays Last, the third play, is about to open Off-Broadway in New York on February 11 at Second Stage Theatre.
"What a thrill to bring all I've learned about process, storytelling, and structure to the next generation of young writers," Hudes said. "There is a palpable curiosity among the Wesleyan student body, along with a willingness to do the hard work that marries creativity and craft. I'm honored and only slightly giddy with the possibilities."
She also wrote the book for the Broadway musical In the Heights, music and lyrics by Lin-Manuel Miranda '02, which received the 2008 Tony Award for Best Musical and a Tony nomination for Best Book of a Musical; it was also a 2009 Pulitzer Prize finalist.
Hudes's honors include the United States Artists Fontanals Fellowship, the Joyce Fellowship at the Goodman Theatre, the Aetna New Voices Fellowship at Hartford Stage, the Roe Green Award at the Cleveland Playhouse, and fellowships at Sundance Theater Institute and the O'Neill Theater Center.
"Wesleyan is so very lucky to have Quiara back on our campus," said Associate Professor of Theater Claudia Tatinge Nascimento. "She is a brilliant, remarkably elegant playwright – and also a most warm colleague and inspiring teacher. Thanks to her dedication, this spring three theater majors will present new plays for department honors. Many more Wesleyan students have been touched by her careful and supportive guidance."
Amy Bloom, director of the Shapiro Creative Writing Center, indicated that the Center will facilitate programs of interest to Hudes, including inviting fellow playwrights to meet with her on campus, hosting a reading of her own new material, and bringing her playwriting students in contact with other student writers.
"This is exactly the kind of cross-pollination that Shapiro Center supports across the campus, from haiku to a graphic novel to a pop-up children's book to a collection of personal essays – anything a writer can think of. I'm a huge fan of Quiara Alegria Hudes's work and delighted that she'll be at Wesleyan," Bloom said.