Siry's Frank Lloyd Wright Book Named Finalist for Visual Arts Award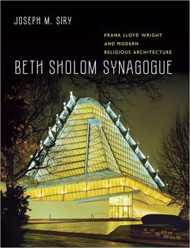 A book written by Joe Siry was named a finalist for the 2013 National Jewish Book Award in the visual arts category. Siry is professor of art history, the William R. Kenan, Jr. Professor of the Humanities and chair of the Art and Art History Department.
The Jewish Book Council announced the winners of the 63rd Annual National Jewish Book Awards on Jan. 15.
Beth Sholom Synagogue: Frank Lloyd Wright and Modern Religious Architecture was published by the University of Chicago Press in 2011. Designated a National Historic Landmark in 2007, Frank Lloyd Wright's Beth Sholom Synagogue was one of Wright's last completed projects, and for years it has been considered one of his greatest masterpieces.
In Beth Sholom Synagogue, Siry provides the first in-depth look at the synagogue's conception and realization in relation to Wright's other religious architecture. Beginning with his early career at Adler and Sullivan's architectural firm in Chicago and his design for Unity Temple and ending with the larger works completed just before or soon after his death, Siry depicts Wright's exploration of geometric forms and structural techniques in creating architecture for worshipping communities.  Filled with more than 300 illustrations, this book takes readers deep inside the synagogue's design, construction, and reception to create a portrait of the crowning achievement of this important aspect of Wright's career. Read more about the book here.
Read a "5 Questions With … " story on Joe Siry in this 2012 Wesleyan Connection article.