Chase's Memoir Published; Reviewed in Multiple News Media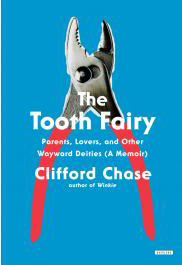 Clifford Chase, visiting writer in the English Department, is the author of The Tooth Fairy: Parents, Lovers and Other Wayward Deities published by Overlook Press on Feb. 6.
The Tooth Fairy is a humorous memoir of a man torn between isolation and connection. Chase tells stories that have shaped his adulthood through intimate confessions, deadpan asides and observations on the fear and turmoil that defined the long decade after 9/11. He writes about his aging parents, whose disagreements sharpen as their health declines; his sexual confusion in his 20s; the joyful music of the B-52s; his beloved brother, lost tragically to AIDS; and his long-term boyfriend—always present, but always kept at a distance.
The Tooth Fairy was reviewed in The Paris Daily Review, Newsday, The Minneapolis Star-Tribune, Booklist, Kirkus, Biographile and Slice. Chase also wrote an op-ed titled "The Teeth of Memory" published in the March 6 edition of The New York Times.
In a Slice article, Chase explains how he began writing in one-sentence fragments. "In early 2001, as life was unfolding. I had only the vaguest intuition of what I was doing—what constituted a 'good' fragment, where it should go in the narrative, why writing this way felt right to me. But I'd always liked working in vignettes, and I suppose The Tooth Fairy simply shrinks the unit of the vignette down to a single sentence. At first I was writing just a single essay, but then I wrote another, and it began to seem like the form had enough possibilities to be sustained over the course of a book."
In this Henry Review video, Chase discusses his memoir in a Q&A.
Chase also is the author of the cult classic novel Winkie, the memoir The Hurry-Up Song, and he edited the anthology Queer 13: Lesbian & Gay Writers Recall Seventh Grade.