Kimmell '82 Named President of the Union of Concerned Scientists
Kenneth Kimmell '82 will join the Union of Concerned Scientists as president in May. After graduating with a BA from Wesleyan, Kimmell received his JD from UCLA. His decision to become an environmental attorney was prompted by an experience assisting a United State District Court judge on a case in which the government misused science. He was a director and senior attorney at a law firm in Boston before joining the administration of Massachusetts Governor Deval Patrick. As General Counsel of the Executive Office of Energy and Environmental Affairs, Kimmell wrote and helped pass five groundbreaking environmental and energy laws. In 2011 he became the head of the Massachusetts Department of Environmental Protection, the position he will leave to join the Union of Concerned Scientists.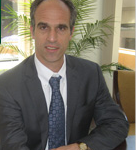 The Union of Concerned Scientists began as a collaboration between faculty and students at the Massachusetts Institute of Technology and is now an alliance of more than 400,000 citizens and scientists who "combine technical analysis and effective advocacy to create innovative, practical solutions for a healthy, safe, and sustainable future."
"We are pleased and excited to have Ken Kimmell on our team," said Kathleen Rest, the executive director of the UCS. "He brings a wealth of experience, a deep passion for our issues, and a strong commitment to science-based policy and decision-making. He is a strong, strategic and energetic leader, and we couldn't be happier with this appointment."
Kimmell said, "Becoming the president of the Union of Concerned Scientists is the opportunity of a lifetime. UCS is a nationally recognized, mission-oriented group with a stellar staff and the credibility and resources to make a difference on the defining issues of our generation. It's an honor and a privilege to join such a prestigious organization, and I look forward to working with the UCS board, staff and members to be even more visible and effective in addressing the difficult challenges ahead."
For more information about the USC, visit their website.